Telefónica Invites Cohere Technologies to Join 5TONIC Lab
02 August 2016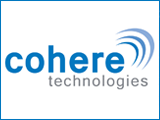 SANTA CLARA, California (USA) and MADRID (Spain) – August 2, 2016 – Cohere Technologies today announced that Telefonica, one of the largest telecommunications companies in the world, has invited Cohere to join the 5TONIC Research and Innovation Laboratory based in Madrid, Spain. 5TONIC was established by Telefonica and the IMDEA Networks Institute to create an open ecosystem for research and innovation in which industry and academia come together to boost technology development and business ventures as the industry races to establish 5G technology by the year 2020. Cohere will bring its modulation and systems expertise to 5TONIC.
"Telefonica believes Cohere's wireless modulation technology, OTFS, has the potential to be a major advance in the development of wireless 5G," said David del Val, Chairman and CEO of Telefónica I+D. "Telefonica has been very supportive of OTFS as the industry works on forthcoming 5G standards within the 3GPP RAN committee framework. We believe that the industry should have more opportunities to explore the potential of Cohere's important new technology, and 5TONIC provides the industry a unique environment for evaluation."
OTFS, which stands for Orthogonal Time, Frequency and Space, is a new paradigm in wireless modulation. This next-generation wireless modulation scheme is uniquely able to overcome the challenges inherent to high-speed wireless connectivity and MIMO – primarily signal fading and signal reflection – ensuring excellent signal reception throughout coverage areas while maximizing throughput.
"To meet the 2020 timeframe to begin widespread deployment of 5G, the industry must overcome unique challenges that are preventing existing technologies from meeting goals for capacity, throughput and mobility," said Shlomo Rakib, CEO of Cohere. "It is very important that the industry as a whole can properly evaluate a wide variety of existing, evolutionary and emerging technologies that can potentially solve these challenges. Naturally, Cohere is confident our OTFS technology – working independently or complementing existing wireless technologies – will meet the industry's goals for 5G, and we are grateful to Telefonica for inviting us into 5TONIC so we can let industry leaders properly explore its potential."

The 5TONIC laboratory promotes joint development projects; joint entrepreneurial ventures; discussion forums, events and conferences, in an international environment that fosters the highest impact. 5TONIC enables its member companies to showcase the capabilities and interoperation of pre-commercial 5G equipment, services and applications. Leading global companies in the 5G arena and innovative young startups participate in the lab, and are benefiting from 5TONIC's advanced research and innovation laboratory that's oriented to research, debate, field-testing and demonstration of all technologies and equipment to support 5G communications, services and applications.
---
About Telefónica
Telefónica is one of the largest telecommunications companies in the world by market capitalization and number of customers with a comprehensive offering and quality of connectivity that is delivered over world class fixed, mobile and broadband networks. As a growing company it prides itself on providing a differential experience based both on its corporate values and a public position that defends customer interests.
The company has a significant presence in 21 countries and 322 million accesses around the world. Telefónica has a strong presence in Spain, Europe and Latin America, where the company focuses an important part of its growth strategy.
Telefónica is a 100% listed company, with more than 1.5 million direct shareholders. Its share capital currently comprises 4,975,199,197 ordinary shares traded on the Spanish Stock Market and on those in London, New York, Lima, and Buenos Aires.
About Cohere Technologies
Cohere Technologies is solving the fundamental technical challenges of wireless communications to dramatically increase performance, reliability and coverage with its Orthogonal Time Frequency and Space (OTFS*) technology. OTFS is a new modulation scheme that perfectly captures the wireless channel, delivering substantially increased coverage and spectral efficiency over existing solutions, allowing operators to significantly reduce cost. Combined with traditional modulation schemes, OTFS extends the benefits of its new two-dimensional modulation to existing platforms to enable the future of 5G mobility. Cohere plans to productize OTFS for backhaul, fixed wireless access and 5G.
Follow Cohere on social media: Twitter: @CohereOTFS | Facebook: Cohere Technologies | Google+: Cohere Technologies | LinkedIn: Cohere Company Page
More information about Cohere Technologies is available at www.cohere-technologies.com
*OTFS is a trademark of Cohere Technologies. All other trade names referenced are the service marks, trademarks or registered trademarks of their respective companies.
Source(s):
Cohere Technologies