Elnaz Alizadeh Jarchlo, new PhD Student
04 August 2016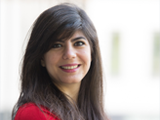 Elnaz Alizadeh Jarchlo has become a member of the IMDEA Networks research team. She will be working as a PhD Student within the Ubiquitous Wireless Networks Group led by Dr. Paolo Casari. Her main areas of interest are Wireless Networks and Communications, Visible Light Communications, Sensor Networks, the Internet of Things, Distributed Networks, and Mobile Networks.
---
In 2010 Elnaz obtained her Bachelor's degree in Computer Software Engineering from Azad University (Tehran, Iran). She also obtained a number of certificates, including the official CCNA certificate. Following her graduation, she joined an IT company as a "Network Engineer". There she worked as part of a 'network experts' group and was involved in configuring, designing and maintaining wireless communication networks implemented on Cisco devices.
After two years of professional life, Elnaz decided to continue her higher education enrolling on the MSc Degree Program in Information Systems of the Department of Informatics at the Middle East Technical University (METU) in Ankara (Turkey), graduating in 2013. Having centered her MSc studies on the development of new methods and algorithms in wireless networks and communications, she chose "Wireless Sensor Networks" as the main research area in which to focus her MSc thesis.
Her last employment prior to her incorporation at IMDEA Networks has been as a researcher in networks and telecommunications for IBCN, the Internet Based Communication Networks and Services research group at Ghent University (Belgium). At IBCN she has worked on a project to improve wireless communications among Automated Guided Vehicles (AGVs).
---
PhD Students at IMDEA Networks
Do you also wish to join our team of young researchers? More information in our Careers opportunities pages.
Source(s):
IMDEA Networks Institute