Students carry out an educational internship at IMDEA Networks with the 4ºESO+Enterprise Program
They have learned digital skills and technical knowledge about the world of telecommunications
30 March 2023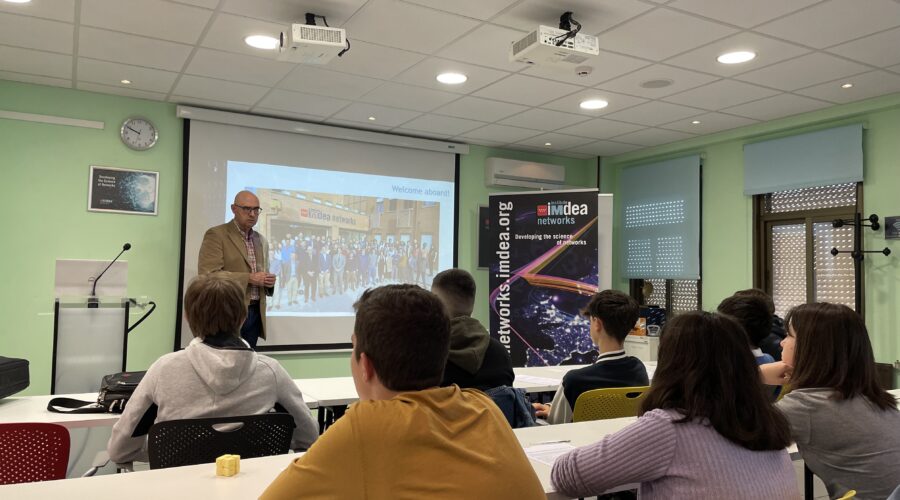 On March 29 and 30, 14 students from the IES Isaac Albéniz and IES Siglo XXI high schools in Leganés enjoyed an educational stay at IMDEA Networks. This is the sixth year that we have participated in the 4ESO+Empresa program, promoted by the Community of Madrid with the aim of giving 16 year old students a first contact with the working world they will be part of in the future.
During their stay, the group was supervised by the administration team and members of the Opportunistic Architectures Lab research group, led by Vincenzo Mancuso. On their first day, they were able to understand from the manager Ramón Girona how a non-profit foundation, and specifically IMDEA Networks, works. They were also able to understand how a research institute works and to learn about the structure of the different departments that support our research staff and that are inherent to any company, regardless of its professional activity.
Our Communication Manager Marta Dorado explained the importance of scientific communication and how to disseminate in social networks. At the same time, they were able to learn step by step how to create a website in a CMS management system such as WordPress.
On the other hand, Neftalí González, Systems Administrator, delved into what are the functions performed by an IT department in an organization, as well as took the opportunity to clarify what 5G networks are, what this technology brings us and where it is used. To further enrich the visit, the group of students was able to visit the 5TONIC laboratory and also the millimeter wave laboratory, where Jesús Omar gave them a brief introduction to the research carried out there.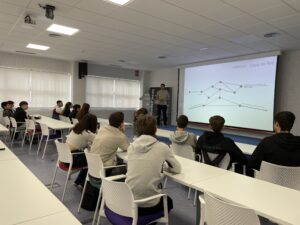 On the second day, they have been together with Postdoctoral researchers Antonio Bazco and Juan Ramírez. Antonio has given them a talk focused first on giving an overview of how the Internet works inside and how it is composed, explaining its different layers and how the different parts of the network are connected. Afterwards, he told them what the so-called "cloud" consists of. For his part, Juan talked about basic machine learning techniques, delving into different classification methods.
Finally, Bazco taught them some basic concepts such as GPS, satellite communication, Smart cities, internet of things, IP address and binary code. Afterwards, they have tested the knowledge acquired during these two days through an escape room about the world of telecommunications. This informative game has been designed by IMDEA Networks together with other partners (COIT, UPM, etc.) as part of the PROMIN project, funded by the Ministry of Economic Affairs and Digital Transformation and the European Union-NextGenerationEU through the UNICO-5G R&D Program of the Spanish Government's Recovery, Transformation and Resilience Plan.
We hope that their time at IMDEA Networks has been positive and also that we have awakened their interest in science and technology.
Source(s):
IMDEA Networks Institute