Roderick Fanou, new PhD Student
14 October 2013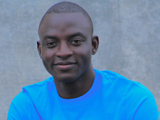 Roderick Fanou has become a member of our research team. From October 2013, he will be working as a PhD Student under the supervision of Pierre François, Research Assistant Professor at the Institute.
Prior to his incorporation to IMDEA Networks and since January 2013 Roderick has been enrolled in the Masters of Science Programme in Telematics Engineering imparted by University Carlos III of Madrid, Spain. In parallel, he successfully led the 2013 Burkina, Niger and Benin's Technical Workshops on the topic "Technical Aspects of Setting up, Operating and Administering Internet Exchange Points (IXPs)". The workshops were organized by ISOC (Internet Society) and the African Union (AU) for network operators, as part of the African Internet Exchange System (AXIS) Project.
Roderick was born at the Republic of Bénin, a West-African country located between Togo and Nigeria. In 2006, and after a rigorous selection process, he was awarded a five-year grant to study at the Polytechnic School of Abomey-Calavi (EPAC) (University of Abomey-Calavi – UAC). The last three years were dedicated to specialization in the field of Networking and Telecommunications, for which purpose he enrolled in several internships. He graduated as the top of the Fourth Polytechnic Class obtaining an Engineering degree in Networks and Telecommunications.
As part of his Masters' Thesis he designed and implemented a web application to monitor TOGO TELECOM's (Togo) Voice and Internet services. The developed software was successfully tested and installed within the network of this network operator during his 6 month internship at EUPHORBIA Sarl. As a result of this, he was recruited by the aforesaid company as a professional trainee to deploy this system under production. This experience triggered his desire to carry out relevant research in the field of IP Networking, for which he sought to join the team of experienced researchers who are part of IMDEA Networks.
At present, Roderick aims to map and measure Internet in West-Africa, as well as providing stakeholders with the essential decision-making data required for the improvement of its overall quality.
---
PhD Students at IMDEA Networks
Do you also wish to join our team of young researchers? More information in our Careers opportunities pages.
Source(s):
IMDEA Networks Institute