FLAVIA project fosters the Internet's ability to keep up with wireless innovation
15 October 2013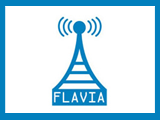 The research project FLAVIA (FLexible Architecture for Virtualizable wireless future Internet Access) has concluded with "excellent" results according to the final overall technical project assessment review performed by the European Commission (EC).
---
Wireless networking is a cornerstone to the development and expansion of the future Internet as mobile devices spread at an accelerated rate as its main entry point. Since currently available technologies are unable to rapidly adapt to evolving contexts and needs dictated by the market, FLAVIA was born with the objective to foster a paradigm shift: from pre-designed wireless services to a modular, programmable, flexible and virtualizable technology.
During the 3-year activity period, FLAVIA has successfully assessed the applicability of its research findings through the validation and testing of easy-to-update wireless networks, and the deployment of multi-technology virtual operators with a single platform for cellular and WLAN coverage. 77 scientific papers and 9 contributions to standardization bodies' activities (IEEE 802.11, IEEE 802.16, 3GPP, ETSI) were produced. Thanks to these results, FLAVIA scored an "excellent" mark, according to EC's technical reviewers.
Among the eleven FLAVIA participants from the European research community, Institute IMDEA Networks, jointly with University Carlos III of Madrid, has contributed to the project in terms of the design of wireless medium access control (MAC) protocols. In particular, this work has focused on the specification and prototyping of IEEE 802.11 modules and programming interfaces, and on the design of innovative MAC services and resource allocation strategies for 4G networks, e.g., LTE.
More information:
Source(s):
IMDEA Networks Institute