"Real-time Economy: Hyperconnectivity, 5G and IoT"
Arturo Azcorra reflected on 5G at the online conference organised by UC3M
20 November 2020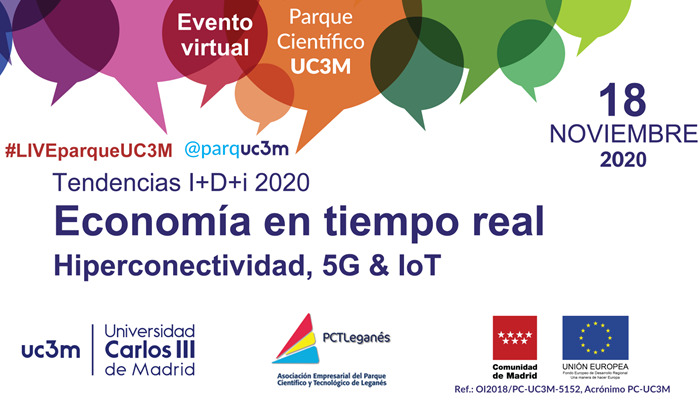 On 18 November, the University Carlos III organised the conference "Real-time Economy: Hyperconnectivity, 5G & IoT", moderated by Alberto Iglesias, journalist and assistant director of Innovators by Inndux and with presentation and closing address by Carlos Blanco, assistant manager of Research and Transfer at UC3M. The event was co-financed by the Community of Madrid and the Feder Funds (EU).
Arturo Azcorra, director of the IMDEA Networks Institute, professor of Telematics Engineering at University Carlos III in Madrid and vice-president of 5TONIC, participated in the first of the two parts: "UC3M Knowledge and Research". Jesús Carretero also joined him, an expert in IoT and its applications – head researcher of UC3M Computer Architecture, Communications and Systems (ARCOS) – as well as Rosa Elvira Lillo, an expert on Big Data and its applications – researcher in the UC3M Statistics Department and director of IBiDat.
The reason for the meeting was to reflect on the influence of the arrival of 5G on the economy, on communications, transport and in our way of working, interacting and connecting with the rest of society. In this context, Azcorra stressed how "hyperconnectivity is going to affect us in fields like health – we will be monitored – autonomous vehicles and drones, videogames – consoles will start disappearing, as they will be on the network edge – and a long etcetera".
The director of IMDEA Networks, besides clearing up the confusion on the relationship between 5G and remote operations ("they have nothing to do with each other'" pointed out the challenge that society will face in implementing this technology: "The most important challenge is capitalising 5G… As an advocate of this technology, I warn you that jobs that can be automated will be destroyed, like what happened with automating farming (jobs were lost in the fields, but created in industry). Accepting that this technology will come, and cannot be stopped, new jobs will have to be created. It will be the challenge of the new economy, in every country".
Azcorra also pointed out how companies will be the main beneficiaries of this implementation and how people will benefit from these advances in business and industry, thanks to a technology "whose main innovation – and it has many – is the possibility of computing inside the network: terminals not only 'talk' to other terminals, but now they also 'talk' to the network'. New capacities and new businesses that will require society to do extensive planning.