Interview with Ralf Steinmetz
07 January 2015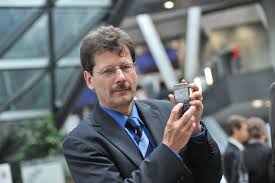 Interview* with Dr. Ralf Steinmetz, Full Professor at the Department of Electrical Engineering and Information Technology and Adjunct Professor at the Department of Computer Science at Technische Universität Darmstadt (TUD), as well as Director of the Multimedia Communications Lab (KOM) at the said university. Dr. Steinmetz is the recipient of a Chair of Excellence Universidad Carlos III de Madrid-Banco Santander for the current academic year and has just joined IMDEA Networks Institute as a Visiting Professor.
Dr. Steinmetz is a key figure for the Madrid research Institute since its inception: he presides its Board of Trustees and became a member of its Scientific Council in 2007. Together with IMDEA Networks, he is also a member of the European Technology Platform Net!Works+ISI. This community of over 500 Information and Communications Technology (ICT) carriers, system makers and research groups from the EU and associated countries aims to develop 5G technologies, providing a blueprint for the deployment of 5G networks with the 2020 horizon in sight.
A renowned networking scientist, Dr. Steinmetz has outlined an ambitious research plan for his six-month stay, focused on the fundamental aspects associated to a foreseen transition towards a new technology paradigm for the Future Internet. His work will aim to solve the grand challenge to future communication systems posed by the increasing dynamics of the conditions in which they operate, diverging use cases and growing quality requirements. Indeed, we are witnessing a constant development of mechanisms to cope with the need to create adaptive communication systems, which are able to accommodate the current plethora of heterogeneous communication devices, of network access techniques and of rendered services.
Dr. Steinmetz will work in collaboration with experts in the field from UC3M and IMDEA Networks to identify viable alternatives to current communication systems. Detailed analyses are expected to yield valuable decision-making data on the transition costs, in terms of technical complexity, actual improvements to functionality and performance, consumption of resources and stability of the new systems.
*This interview was recorded in June 2014 during the celebration of the IMDEA Networks' 6th Annual International Workshop: 5G Network Revolution.
Source(s):
IMDEA Networks Institute