IMDEA Networks participates in the European Researchers' Night in Madrid 2021
The theme of this year's edition was "What are you doing to improve the planet?"
27 September 2021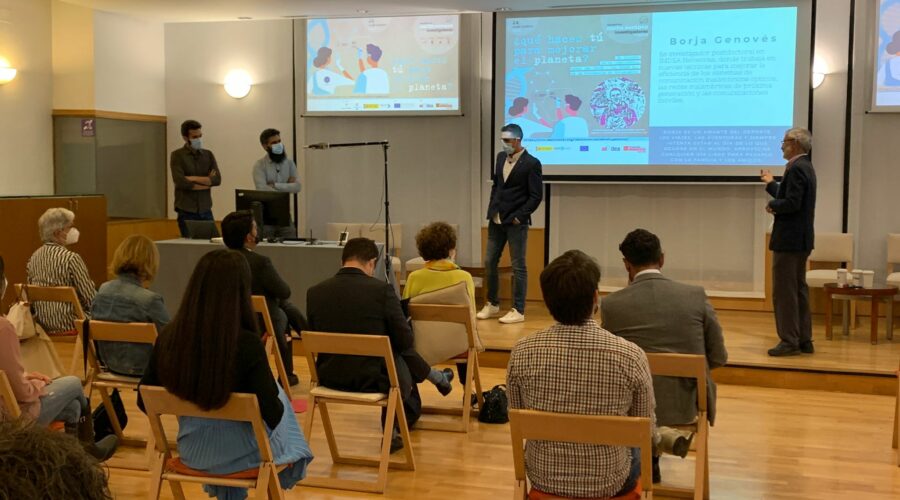 Once again, IMDEA Networks has participated in the European Researchers' Night in Madrid, a major science outreach event held on September 24 at the Residencia de Estudiantes in Madrid. In its 12th edition, researchers from the seven IMDEA Institutes talked about how they use science to improve the present and the future of the planet.
Fidel Rodríguez Batalla, Deputy Minister for Universities, Science and Innovation, and Ana Isabel Cremades, Director General for Research and Technological Innovation attended the event. Rodríguez Batalla underlined during his speech the great work done by the IMDEA institutes. "We are committed and we will make efforts because we want to be recognized as a community that attracts and maintains scientific talent," he added. He also pointed out that "the success of science will be the success of the whole society".
Manuel Carro and José Manuel Torralba, directors of IMDEA Software and IMDEA Materials, respectively, summarized how the activity was going to be developed. Specifically, Torralba emphasized that the European Researchers' Night is an action that aims to give visibility to science among citizens, bring new advances closer, and show society that it is a fun and very enriching profession. "Within Madrid, there are 29 institutions that participate in the European Researchers' Night, so it is a very transversal action," he added.
In addition, Torralba focused on the need to promote STEM careers among women, given that there are some fields in which their presence is very low. At the same time, he pointed out: "Let's not wait for a pandemic or a natural disaster, like the one that is happening on the island of La Palma, to send the message that science is important at any time". After these interventions, researchers from IMDEA Water, Food, Energy, Materials, Nanoscience, Networks, and Software Institutes began their presentations.
IMDEA Networks researchers Domenico Giustiniano (Research Associate Professor), Borja Genovés (Post-Doc Researcher), Muhammad Sarmad Mir (PhD Student), Javier Talavante (PhD Student), and Dayrene Frómeta (PhD Student) demonstrated that a sustainable deployment of wireless communication devices is possible. During the presentation, Genovés asked the audience: "How many of you needed to use an electronic device and the battery had run out?". This is a problem they intend to provide a solution to.
Also, the massive amount of Internet of Things (IoT) devices that are being deployed is causing an enormous environmental impact on the Earth, as these devices currently depend on batteries composed of harmful chemical components. "We enable battery-free devices through the convergence of two main technologies: LiFi and Passive RF backscatter", said Genovés.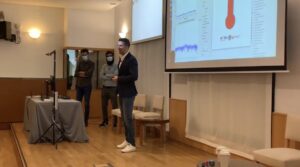 The demo showed a real use case in which the user requested a battery-free IoT device to measure the room temperature. The sensor sent it to a central station, and data was displayed from a smart home application. The battery-free IoT device continuously received and transmitted data from the network, without any interruption of service.
These battery-free IoT devices have multiple real-world applications, in smart homes, IoT, smart agriculture, healthcare, Industry 4.0… "In general, any application that requires sensors that capture data to be communicated," explains Genovés.
"Since last year we have improved our design at different levels. The most important contribution is that the LiFi access point transmits not only data but also a chirp spread spectrum (CSS) signal to enable the battery-free IoT device to transmit data at a much larger distance while keeping a scarce energy power consumption. With an RF carrier of 17 dBm, we can generate an RF backscatter signal with a range of 80.3 meters/𝜇W consumed in the tag", highlights Genovés. To see more details, you can read their recent paper that is about to be published at MobiCom 2021.
The European Researchers' Night in Madrid 2021, coordinated by the Fundación para el Conocimiento madri+d, is an action within the framework of the European program Horizon 2020, which is held in more than 300 European cities at the same time.
---
More info
---
Source(s):
IMDEA Networks Institute