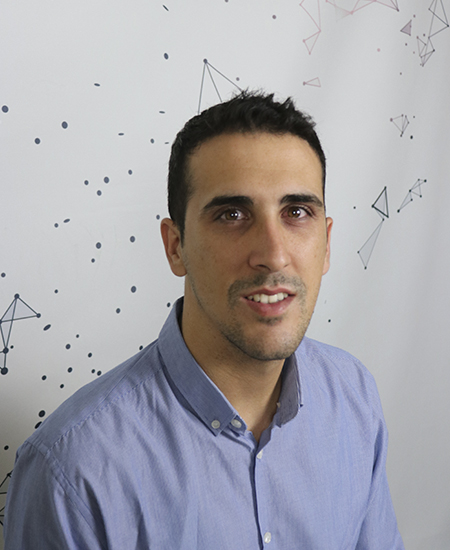 Dr. Borja GENOVÉS GUZMÁN
Post-Doc Researcher
BSc:

Communication System Engineering - University Carlos III of Madrid. Madrid, Spain

MSc:

Multimedia and Communications - University Carlos III of Madrid. Madrid, Spain

MSc:

Communication Networks and Services - Institut Mines-Télécom. Télécom SudParis Engineering School. Paris, France

PhD:

PhD in Multimedia and Communication - University Carlos III of Madrid. Madrid, Spain

Former position:

PhD student. University Carlos III of Madrid. Madrid. Spain

Joining date:

September 2019

Leaving date:

December 2022
Biography
I am a postdoctoral researcher in the Pervasive Wireless Systems Group led by Dr. Domenico Giustiniano since September 2019. My research interests focus on new techniques to improve the efficiency of optical wireless communications systems and, in particular, visible light communications (VLC). I manage the EU HORIZON 2020 MSCA-ITN ENLIGHT'EM project, under the coordination of Dr. Domenico Giustiniano, where a new generation of researchers is being trained with focus on low-power VLC-IoT systems to deliver lighting and networked communication.
In 2019, I obtained my Ph.D. in Multimedia and Communications in the Communications Research Group of the University Carlos III of Madrid (UC3M). During my Ph.D. degree, I was a Visiting Scholar with the Southampton Wireless Group (The University of Southampton), and the LiFi Research and Development Centre (The University of Edinburgh), in 2017 and 2018, respectively.
Prior to the Ph.D. degree, I received the B.Sc. degree in Communication Systems Engineering and the M.Sc. degree in Multimedia and Communications (both with Hons.) from the UC3M in 2013 and 2014, respectively, and the M.Sc. degree in Communication Networks and Services from the Institut Mines-Télécom (Télécom SudParis), France, in 2015.
I have participated in several national and European projects, and during my career I have received several awards, including the First Prize in Graduation National Awards in the category of Telecommunications Engineering from the Ministry of Education, Culture and Sports of Spain.
Previous publications
.

IEEE Photonics Technology Letters (2018)

.

IEEE Transactions on Communications (2017)

.

IEEE Communications Magazine (2017)

.

IEEE Transactions on Consumer Electronics (2015)

.

16th International Symposium on Wireless Communication Systems (ISWCS), Oulu, Finland (2019)

.

XXXIII Simposium Nacional de la Unión Científica Internacional de Radio (URSI), Granada, Spain (2018)

.

XXXIII Simposium Nacional de la Unión Científica Internacional de Radio (URSI), Granada, Spain (2018)

.

XXXIII Simposium Nacional de la Unión Científica Internacional de Radio (URSI), Granada, Spain (2018)

.

The International Conference on Wireless Networks and Mobile Communications (WINCOM), Rabat, Morocco (2017)

.

IEEE 18th International Workshop on Signal Processing Advances in Wireless Communications (SPAWC), Sapporo, Japan (2017)

.

International Wireless Communications and Mobile Computing Conference (IWCMC), Valencia, Spain (2017)

.

Coal Operators' Conference, Wollongong, Australia (2017)

.

6th International Congress on Technical Diagnostic (ICDT), Gliwice, Poland (2016)

.

IEEE Communications Society Summer School, Trento, Italy (2016)

.

XXIX Simposium Nacional de la Unión Científica Internacional de Radio (URSI), Valencia, Spain (2014)

.

Wiley 5G Ref. 2019 John Wiley & Sons, Ltd. ISBN 9781119471509

.

IEEE Transactions on Communications (2020)

.

IEEE Transactions on Vehicular Technology (2019)