IMDEA Networks, Best UC3M International Futsal Team
10 May 2017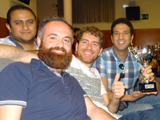 The University Carlos III of Madrid awards a team of IMDEA Networks' predoctoral researchers the Trophy to the Best International Team in its 2016/2017 Annual Futsal Competition.
---
The international nature of the IMDEA Networks team – a research center on networks that places Madrid as a leading European region in the development of future network technologies – encompasses its entire staff of researchers, originating from organizations and universities around the world, with a total of 16 different nationalities, 11 of which are represented among its PhD Students. Most of these young scientists carry out research in communication networks at the Madrid Institute of Advanced Studies (IMDEA) in Networks, while they undertake a doctorate in the Department of Telematics Engineering at the University Carlos III of Madrid. A group of them, from Spain, Italy, Morocco, Egypt and Benin, form part of the winning team of this sporting award granted in the academic year 2016/2017.
In an international multidisciplinary environment, teamwork and sportsmanship are essential working tools. Scientific work is based on principles similar to those applied to physical activity and sport. Effort, dedication, sacrifice, fair play, the need for self-improvement and the sense of group identity are indispensable in the scientific as much as in the sports field. The recognition of the UC3M to the team of IMDEA Networks' young researchers celebrates the success of this association of values and highlights the Institute's effort to build a team of people based on the excellence of their individual capacities, regardless of their geographical or cultural origin.
IMDEA Networks is funded by the Community of Madrid, and private companies participate financially in some of its projects. There are currently 16 ongoing research projects that have attracted funding from various sources: 9 European, 1 national, 3 financed by the regional government and 1 supported by the National Science Foundation of China. Through these initiatives the institute collaborates with over 60 industry partners and 100 academic institutions worldwide.
This Trophy is the result of the participation of IMDEA Networks in the Futsal category of UC3M's Sporting Competition 2016/2017, which is divided into the League and the Rectorate Cup, which together take place over the entire academic year, from October till April.
Representatives of the IMDEA Networks team at the awards ceremony are, from left to right: Christian Vitale (2nd), Aymen Fakhreddine (3rd), Ander Galisteo (5th) and Victor Sanchez (6th).
​The rest of team members from IMDEA Networks are: Roberto Calvo, Maurizio Rea, Luis Felipe Núñez Chiroque, Dario Bega and Roderick Fanou. Other 3 students from the Multimedia Department at UC3M complete the team.
Images of the trophy awards ceremony corresponding to the competition at the Leganés and Getafe Campuses, which took place on Thursday, May 4th, 2017, at 13.30, in the Graduate's Hall (Rectorate) of the Getafe campus. The winning team was also granted free enrollment in next year's competition.
Source(s):
IMDEA Networks Institute