IMDEA Networks' scientific output highlighted at INFOCOM 2017
12 May 2017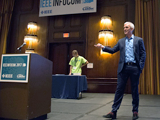 IMDEA Networks' scientific production ranks 5th at INFOCOM 2017. The Madrid research Institute has presented ten scientific articles at the 2017 edition of what most networking researchers consider the most impactful annual conference in the field of communication networks: INFOCOM. The Institute's Deputy Director, Albert Banchs, has authored four of these articles.
---
The presence of IMDEA Networks at INFOCOM 2017 has extended as well to two of the members of its Scientific Council, a ten-strong body of internationally-prestigious experts in the fields of telecommunications and Internet technologies, who provide advice and support in determining the Institute's scientific research strategy and policies.
On the one hand, Pablo Rodríguez Rodríguez, who is the CEO of Telefonica Innovation Alpha, has received the «IEEE INFOCOM Test of Time Paper Award». This award recognized papers in the INFOCOM proceedings over the last ten to twelve years that have been most cited and widely recognized to have a significant impact on the research community.
On the other hand, Edward Knightly, department chair in Electrical and Computer Engineering at Rice University, was invited to deliver the keynote address at INFOCOM 2017. Knightly's keynote, "Scaling Wireless for Next Generation Transformative Applications," addressed several transformative applications on the horizon, focusing not merely on making today's applications faster, but rather asking what impactful applications are not realizable today.
Finally, IMDEA Networks' Director, Arturo Azcorra, participated in one of the only two panels celebrated at the conference, entitled «Innovation through Joint Industry-Academic Partnerships». Together with other 4 international experts, Azcorra debated possible strategies to foster industry and academic shared work aimed at driving ambitious, open-ended research.
IEEE INFOCOM is a top ranked conference on networking in the research community. It is a major conference venue for researchers to present and exchange significant and innovative contributions and ideas in the field of networking and closely related areas. IEEE INFOCOM covers both theoretical and systems research. The 36th IEEE International Conference on Computer Communications took place in Atlanta, Georgia (USA) during the first four days of May.
| | |
| --- | --- |
| | |
| Pablo Rodríguez (first on the right) receives the «IEEE INFOCOM Test of Time Paper Award». | Three of the IMDEA Networks resaerchers who attended INFOCOM. From left to right: Joan Palacios (PhD Student), Dario Bega (PhD Student) and Paolo Casari (Research Assistant Professor). |
| | |
| Edward Knightly during his keynote address. | Pablo Rodríguez (left) and Arturo Azcorra (right) exchanging ideas during a break to the sessions. |
Source(s):
IMDEA Networks Institute
Resources:
IMDEA Networks publications at INFOCOM 2017:
The IEEE INFOCOM Test of Time Paper Award recognizes papers published between 10 to 12 years ago (a three-year window) in the INFOCOM proceedings that have been most cited and widely recognized to have a significant impact on the research community. For 2017, papers published in 2005 – 2007 INFOCOM proceedings will be eligible.
The award committee has decided to give two awards this year.
Winners:
"Network Coding for Large Scale Content Distribution," Christos Gkantsidis, Pablo Rodriguez Rodriguez, in Proceedings of the 2005 IEEE INFOCOM
"MaxProp: Routing for Vehicle-Based Disruption-Tolerant Networks," John Burgess, Brian Gallagher, David Jensen, Brian Neil Levine, in Proceedings of the 2006 IEEE INFOCOM
Panel A: Innovation through Joint Industry-Academic Partnerships
10:30 – 12:00 Wednesday, May 3, 2017
Room: Georgia 2-3

Panel Theme:
Industry and academia are the two major pillars that drive innovation and research, and historically, significant cross-pollination of ideas and expertise occurs between them. The goal of this panel is to discuss shared experiences, identify time-tested and new strategies, as well as role responsibilities in situations when industry and academia work together towards driving ambitious, open-ended research. The panel includes representatives from major research laboratories associated with the leading networking companies, startups, as well as industry consortiums for large wireless platform development projects committed to working with academic partners.

Panelists:
1. Dr. Nada Golmie, Chief, Wireless Division, National Institute of Standards and Technology (NIST), USA
2. Dr. Haris Gačanin, Department Head, Indoor Networking Systems, Nokia Bell Labs, Belgium
3. Dr. Jeff Foerster, Principal Engineer at Intel, USA
4. Dr. Arturo Azcorra, Director, IMDEA Networks Institute, Spain
5. Mr. Paul Challoner, Vice President Network Product Solutions, Ericsson USA