Hector Cordobés de la Calle, new Research Support member
18 June 2013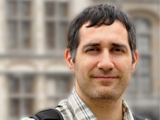 Héctor Cordobés de la Calle has become a member of our Research Support team. He will be working as a Research Engineer in the SOCAM project, lead by Antonio Fernández Anta, Senior Researcher at the Institute.
Prior to his incorporation to IMDEA Networks, Héctor worked as a Systems Architect and Developer at Motorola/Motorola Mobility, in Spain. He is a Senior Telecom Engineer with more than ten years international experience in multidisciplinary teams, with emphasis in the roles of Systems Architect and Systems Engineer, covering all phases of product development.
His previous work includes IMS core network development, SIP Signaling compression, High Availability platform design for core network nodes, and IPTV networks and Set-Top Boxes development.
Research: NLP; Big Data; Signal Processing
Joining date: June 2013
Research Support at IMDEA Networks
Source(s):
IMDEA Networks Institute