5G technology applied to ASTI Mobile Robotics' AGVs
11 December 2017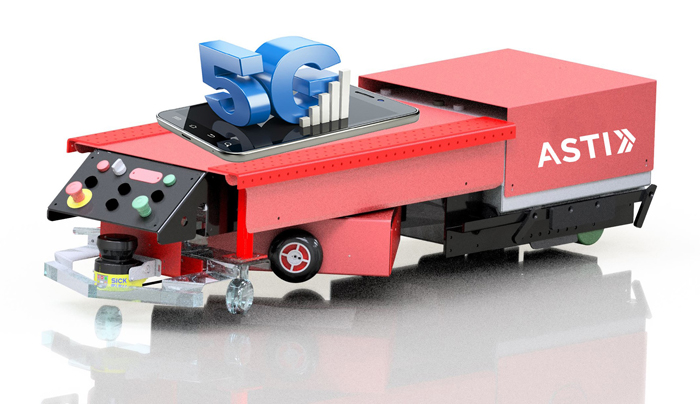 The engineering firm from Burgos is working with 5TONIC on a project to centralise AGV decision-making.
---
Engineering firm ASTI and 5G innovation lab 5TONIC are testing 5G applicability in ASTI Mobile Robotics' AGVs (automated guided vehicles). The project is one of several that the R&D and Innovation team at the Burgos-based mobile robotics specialist is working on with 5TONIC. The aim is to store the data that the AGVs generate in the mobile cloud, uploading it to a server where users can "query production and machinery maintenance information, predict faults before they occur to prevent downtime, and enhance real-time AGV control," explains ASTI head of R&D and Innovation, Enrique Sierra.
Using 5G could allow ASTI to centralise the guidance algorithms currently implemented on the AGVs, increasing machine intelligence and supporting new coordination mechanisms — not currently viable with today's solutions — that would optimise manufacturing processes. "The initiative starts with decoupling control from the vehicles and putting their intelligence on the server, which is what would run the software currently on board the vehicles. If we can get that to work, we'll be able to use the huge volume of data from the AGVs to coordinate vehicle control," added Sierra. The first step is separating the control layers and analysing each one.
To support the communications requirements associated with AGV operation, the 5G network needs to deliver levels of reliability, latency and performance that current technologies like LTE cannot provide.
The trials will take place at 5TONIC's main lab, operated by founder member IMDEA Networks Institute (Leganés, Madrid), on a circuit hosting 4 or 5 vehicles programmed by ASTI engineers, with the AGV control and management algorithms being run on a high-end server provided by 5TONIC. The AGVs will operate 24/7 and will be monitored throughout the trials. At a later stage, the researchers plan to install the demo in an automotive industry factory.
---
Located in Burgos and 100% Spanish-owned, ASTI Mobile Robotics designs, engineers, manufactures, implements and maintains automated intralogistics solutions. ASTI Mobile Robotics specialises in automated guided vehicles (AGVs) used to move materials and products from place to place in factories and warehouses. It offers the widest range of AGVs on the market and is an expert in industrial connectivity and processes.
ASTI Mobile Robotics forms part of ASTI Technologies Group, a holding comprising the mobile robotics firm, ASTI Technologies Distribution and ASTI Consulting Services, as well as holding stakes in other technology firms and Fundación ASTI. The engineering firm became a 5TONIC partner this year. ASTI Technologies Group's predominantly engineering-based international talent is made up of over 180 people who span 8 nationalities and cultures but share one thing in common: the desire to be part of an outstanding, high-energy, customer-oriented team built on the principles of respect and humility and driven by the motivation to increase customer's competitiveness.
5TONIC is an international 5G-technology research and innovation lab in which industry and academia come together to kickstart technology and innovative business ventures. The lab was founded by Telefónica and IMDEA Networks Institute (Madrid), which hosts the main site. 5TONIC researches, field-tests and demonstrates the technologies and equipment needed to support 5G communications, services and applications. 5TONIC combines full members and partners from the telecommunications sector and others.