Yonas Mitike Kassa, new PhD Student
16 February 2015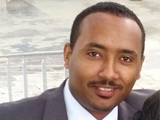 Yonas Mitike Kassa has become a member of the IMDEA Networks research team. He will be working as a PhD Student from February 2015. His main areas of interest are Online Social Networks, Online Advertising, Privacy, Large Scale Data Analytics, Machine Learning, Network Measurement, and Content Distribution Networks.
Prior to his incorporation to IMDEA Networks, Yonas worked with telecom service providers and equipment manufacturers in areas involving network management, unified authentication and security.  During 2013 Yonas was an Erasmus exchange student at Universidad Carlos III of Madrid, where he completed his Masters thesis on the design of content distribution infrastructures for online social networks.
---
PhD Students at IMDEA Networks
Do you also wish to join our team of young researchers? More information in our Careers opportunities pages.
Source(s):
IMDEA Networks Institute