Video of Prof. Ian Akyildiz's conference "SoftAir" presented @5TONIC lab
28 July 2017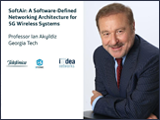 The laureate professor and scientist Prof. Dr. Ian Akyildiz of the Georgia Institute of Technology – Georgia Tech (USA), visited Madrid on July 19th, 2017, to give a talk entitled "SoftAir: A Software-Defined Networking Architecture for 5G Wireless Systems".
---
Dr. Akildyz is a global authority in the field of wireless telecommunications and the author of numerous ground-breaking scientific contributions about cellular and underwater networks and, currently, a pioneer in 5G and nanoscale networks (also known as "nanonetworks").
In the talk, conducted in English, Dr. Akildyz presented the main research challenges of the coming years in the field of wireless networks, focusing both on the different aspects of the future 5G radio interface and on the fundamentals of its radio access network (RAN). In turn he also presented key technological challenges for the development of the Internet of Things (IoT), a concept that involves the digital interconnection of everyday objects to the Internet. The future of communications therefore combines the very small to the great ambition of connecting to everything, everywhere.
Source(s):
5TONIC; IMDEA Networks Institute