Diego Juara, new Research Engineer
26 July 2017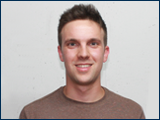 Diego Juara has joined the research engineers and support team at IMDEA Networks. He will be working within the Pervasive Wireless Systems Group led by Dr. Domenico Giustiniano.
---
Diego Juara's main research interests currently are wireless communications, Visible Light Communication (VLC), electronics, Software Defined Radio (SDR) and high speed systems.
Diego Juara received a Bachelor's degree with honours in Telecommunication Systems Engineering from the University of Alcalá (UAH) in 2015. Ahead of graduation, in 2014, he joined an internship program at the Signal Theory and Communications Department of UAH. As part of his contributions to ongoing international projects within the department, he performed research on signal processing related to radar and on antenna analysis and design. He is now pursuing an MSc on Telecomunications Engineering at the same university.
Before joining IMDEA Networks, from 2016 he worked for Indra Systems, focusing mainly in radio frequency (RF) and electronics design, but also dealing with array signal processing.
---
Would you like to join our team of technical and professional experts to support ongoing research efforts at IMDEA Networks? More information about job opportunities for Research Engineers & Support personnel at IMDEA Networks here.
Source(s):
IMDEA Networks Institute