Víctor Sánchez Agüero, new Research Assistant
10 March 2017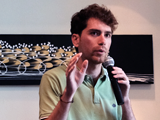 Víctor Sánchez Agüero has become a member of the research engineers and support team at IMDEA Networks, where he will be working as a Research Assistant. His main research interests are Internet Measurements, IP Routing, BGP, Data Visualization, Network Architectures and UAV/Drones.
---
Earlier this year (January 2017) Víctor completed a BSc in Audiovisual Systems Engineering at University Carlos III of Madrid (UC3M). Prior to his incorporation to IMDEA Networks, Víctor worked as an Internship Student at the said university. During this period he collaborated with researchers from the Telematics Engineering department, as well as with the Internet Society (ISOC), in the development an application to analyze the impact of Internet Exchange Points in the African continent.
---
Would you like to join our team of technical and professional experts to support ongoing research efforts at IMDEA Networks? More information about job opportunities for Research Engineers & Support personnel at IMDEA Networks here.
Source(s):
IMDEA Networks Institute