Vadim Kirilin, new PhD student at IMDEA Networks Institute
22 April 2016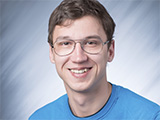 Vadim Kirilin is a new member of the IMDEA Networks research team, joining us as a PhD student from March 2016. He will be working in the NetEcon research group led by Sergey Gorinsky, Research Associate Professor at IMDEA Networks, and also Vadim's Supervisor in relation to his PhD. The NetEcon research group studies economics of networked systems and its interplay with technology and security.
Vadim Kirilin's main research interests are Software Defined Networking (SDN), Machine Learning, Neural Networks, Real-time Networks, and Applied Statistics.
Before he started at IMDEA Networks as a PhD Student, Vadim worked as a Software Engineer in ABBYY and Softmachines, both international companies with offices in Moscow. In the latter, he worked in the area of technology optimization, programming, and as an Analyst of JIT compiler for VISC processor.
Vadim obtained his B.Sc. in Applied Mathematics and Computer Science from Lomonosov Moscow State University in 2015. His B.Sc. thesis dealt with assessing frame delays in real-time systems' networks such as AFDX, FC-RT, and certain modifications of real-time SDN. On this basis, he developed an algorithm based on Network Calculus that allows for computing end-to-end frame delay with variable time and precision, while at the same time offers good parallelization.
Source(s):
IMDEA Networks Institute