UTEK joins co-creation laboratory as 5TONIC takes to the ocean
New project tests 5G radio waves for maritime applications
19 March 2019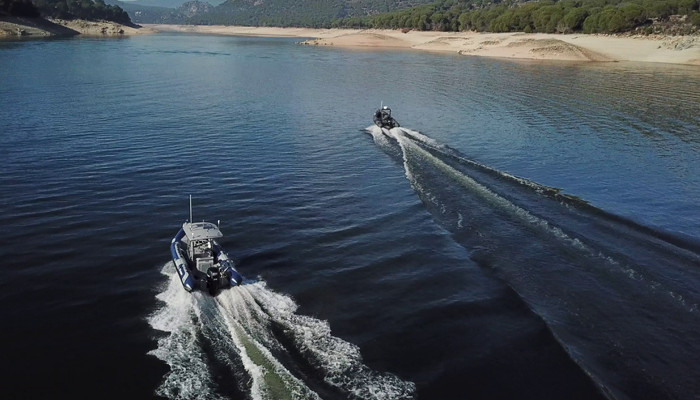 UTEK, a Spanish start-up company backed by the European Space Agency's business incubator programme, is to join the 5TONIC co-creation laboratory in Madrid as a collaborator investigating and developing maritime applications of 5G technology.
Founded in 2016, UTEK specialises in developing high-performance, high reliability, unmanned surface vessels for maritime and naval applications.  Its unmanned vessels, known as USVs, are currently developed for environmental, commercial, and military training applications.
Working alongside 5TONIC member companies Telefónica, Ericsson, IMDEA Networks and University Carlos III Madrid, UTEK will test the use of the 5G radio for the remote control of its USVs.  The high bandwidth potential of 5G radio may help both to allow the evolution of USVs to incorporate new sensors that require a higher bit rate, as well as extend the capabilities of current and potential applications.
5TONIC and UTEK will also consider whether the use of processing capacity at the edge of the network could be a means of enabling new, very low latency, marine applications.
"We are very happy to collaborate with a new company like UTEK in order to help them develop and launch new and competitive solutions for USVs using 5G technology," said Arturo Azcorra, 5TONIC vice-chairman. "UTEK is an ideal collaborator for exploring the potential of new maritime and naval applications that may benefit from the use of 5G."
César Martínez, CEO of UTEK, said: "This is a great opportunity for our company to collaborate with the innovative partner companies within the 5TONIC Laboratory. We believe this project will provide further boost and consolidate our credentials as the leading innovator in maritime USV developments."
---
About UTEK
Unmanned Teknologies Applications S.L. (UTEK) is a leading company in the development of high reliability and advanced performances unmanned vessels (Unmanned Surface Vehicles – USV). UTEK is composed of a multidisciplinary group of professionals with broad experience in complex projects in the fields of aerospace, unmanned systems, and naval electronics. Among their customers, they are some of the most important maritime entities at national and international level, as well as Security and Armed Forces from several countries. Demand for unmanned vessels for naval applications is increasing due to the wide variety of applications from maritime surveillance to oceanic research, both in civilian and defense scenarios.
About 5TONIC
5TONIC was initiated by Telefónica and IMDEA Networks Institute with a clear vision to create an open research and innovation ecosystem laboratory in which industry and academia come together to boost technology and business innovative ventures. The laboratory promotes joint project development, joint entrepreneurial ventures, discussion fora, events and conference sites, all in an international environment of the highest impact. 5TONIC serves to show the capabilities and interoperation of pre-commercial 5G equipment, services and applications, by leading global companies in the 5G arena. The laboratory was recently awarded Digital Innovation Hub status by the European Commission.