The Secretary General for Innovation of the Ministry of Science and Innovation and the Director General for Research of the Regional Government of Madrid visit IMDEA Networks
Teresa Riesgo and Ana Isabel Cremades were also able to visit the 5TONIC laboratory facilities, specialized in 5G
21 March 2022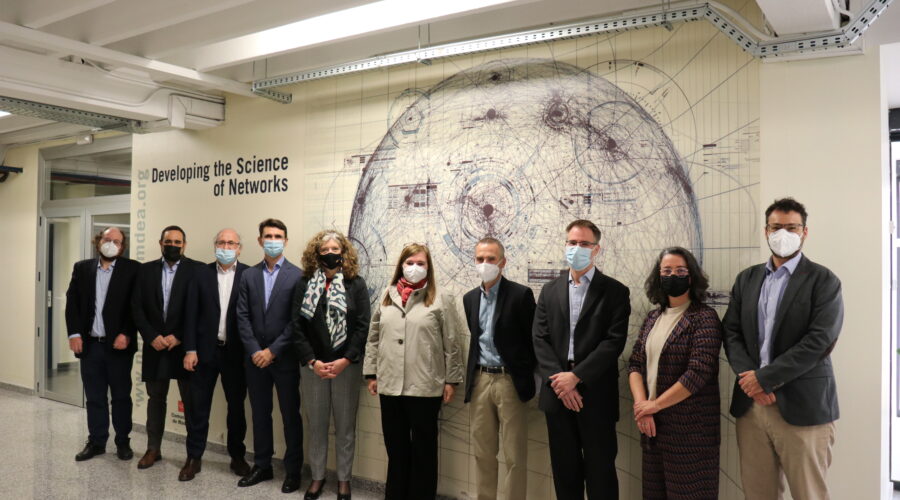 The Secretary General for Innovation of the Ministry of Science and Innovation of Spain, Teresa Riesgo, and the Director General for Research and Technological Innovation of the Community of Madrid, Ana Isabel Cremades, visited IMDEA Networks' facilities in Madrid on Wednesday, March 16th, to learn about the cutting-edge projects that the Institute is currently developing to improve the future of communications networks.
Albert Banchs, Deputy Director of IMDEA Networks, gave them a tour of some of the laboratories. In this case, Riesgo and Cremades were able to see first-hand what is being researched in the Millimeter Wave Networking (cutting-edge studies related to millimeter waves) and LiFi (an example of sustainability: wireless communication devices without batteries) laboratories.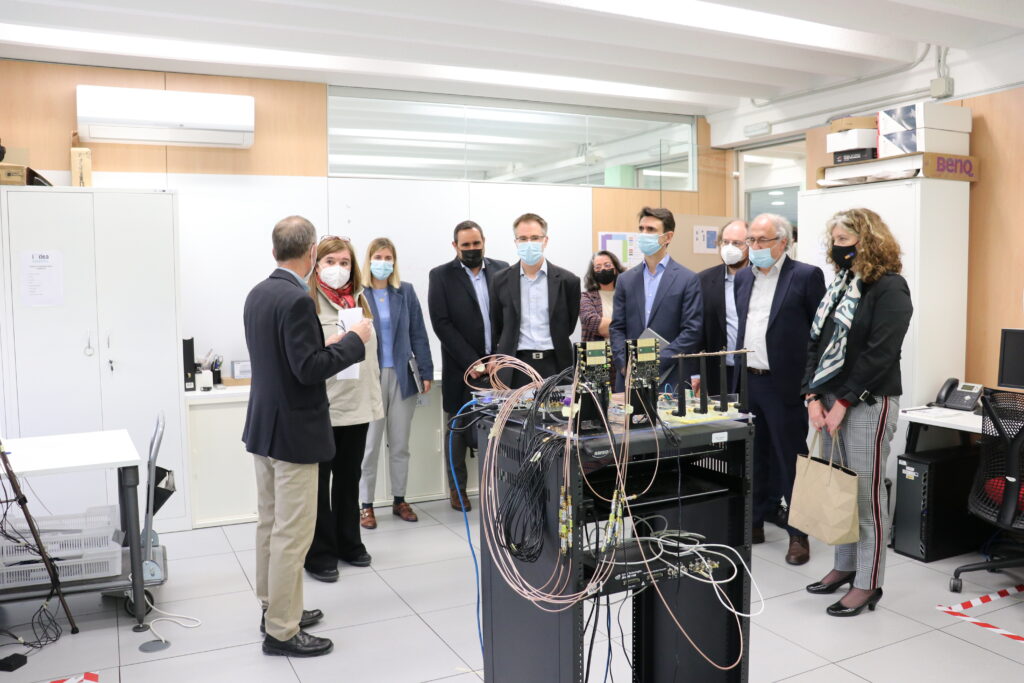 They also visited 5TONIC, founded by IMDEA Networks and Telefónica. The lab is a collaborative space with other industries and large or small companies, providing network infrastructure for the development and testing of new products and services based on 5G. During the visit, it was made clear that it represents a good example of public-private collaboration in a knowledge generation center such as IMDEA Networks.
After touring the facilities, the delegation met in the Torres Quevedo room. There, Banchs gave a presentation on some of the most recent advances in our Institute's lines of research: mobile networks (5G and 6G), network systems, and data analysis and privacy. He spoke about our main achievements in terms of scientific excellence, talent attraction, technology transfer, and business creation.
He also mentioned two of the institute's most successful initiatives: 5TONIC and SLICES. The latter represents the first infrastructure in Europe dedicated to ICT research, will have in Madrid one of its main nodes, and will play a very relevant role in bringing Europe to the forefront of digitization.
On the other hand, Juan Carlos García, president of 5TONIC and vice president of Innovation at Telefónica, together with Jesús Luis Folgueira Chavarria, responsible for the transport network research line, presented the projects and activities being carried out in the laboratory. Since its birth in 2015, it has carried out different 5G technology implementation tests for various solutions and sectors. For example, in the field of health, the emergency services assistance system based on 5G, within the framework of the European innovation project 5G-TRANSFORMER. But also, solutions for industry 4.0, transport and automotive, surveillance, video games, tourism, as well as for the efficient management of cities, the so-called smart cities.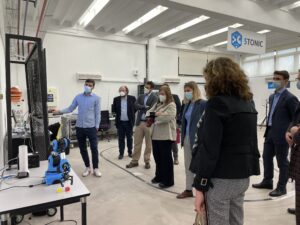 Teresa Riesgo has taken the opportunity to show her support for innovation and research in the field of technology and telecommunications. This moment coincides with the recent announcement by the Ministry of Science and Innovation of an investment of 238 million euros in the different Autonomous Regions with the aim of strengthening scientific infrastructures and improving cooperation in R+D+I.
For her part, Ana Isabel Cremades reaffirmed her commitment to digitalization. The Community of Madrid aims to promote this process and carry out policies that help both citizens and companies to adapt to new technologies. An example of this is the also recent announcement to allocate 120 million euros for the digital transformation of classrooms and teacher training.
Source(s):
IMDEA Networks Institute