Sergio Tamurejo, new PhD Student
21 November 2014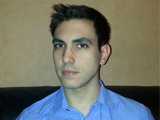 Sergio Nicolás Tamurejo Moreno has become a member of the IMDEA Networks research team. He will be working as a PhD Student from November 2014, whilst undertaking a PhD in Telematics Engineering at University Carlos III of Madrid. His main areas of interest lie in Network Function Virtualization/Software Defined Networking; Large Scale Networks Measurement, Analytics and Simulation, and Programming Communication Services and Protocols.
Prior to his incorporation to IMDEA Networks, Sergio Tamurejo worked as an Intern Enterprise Architect for Indra Systems, as well as an Intern Developer at IMDEA Networks.
In 2014, Sergio obtained his B.Sc. in Audiovisual Systems Engineering from University Carlos III of Madrid. Currently he is immersed in obtaining the Master in Telematics Engineering at the aforementioned university.
---
PhD Students at IMDEA Networks
Do you also wish to join our team of young researchers? More information in our Careers opportunities pages.