Science is my Life
17 September 2012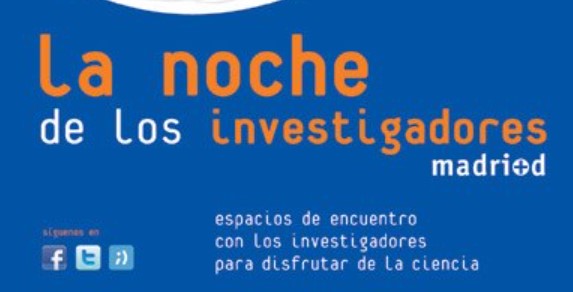 And everyone's. Would you be able to imagine your life without computers, airplanes, phones, antibiotics or X-rays? Because science lies behind all these things and virtually everything in your daily life. And, if science is there, it's because of scientists.
---
Date and venue:
Residencia de Estudiantes
Friday, 28th September, 19 to 21 h.
C/ Pinar 21-23, Madrid
Free admission until full capacity
Under the title La Ciencia es mi Vida (Science is My Life), a roundtable will be held between 19:00 and 21:00 of Friday 28th September 2012 in the Residencia de Estudiantes de Madrid (street Pinar 21-23), moderated by the Professor of Theoretical Physics Mr. Alfredo Poves, gathering a number of researchers from the Madrid Institutes of Advanced Studies (IMDEA, Institutos Madrileños de Estudios Avanzados).
This round table will be one of the around twenty activities slated for the Night of Researchers 2012, a European scientific outreach project that will simultaneously be held in over 200 European cities. Promoted by the Board of Education and Employment of the Madrid Community, and coordinated by the madri+d Foundation, this project involves fourteen universities and other research centers in our Community.
The protagonists of the event include: the Residencia, the researchers from the IMDEA institutes invited as speakers to the round table, its moderator and, above all, Science and everyone interested in knowing the what, how, when, where and why of research and researchers.
The Residencia de Estudiantes was founded in 1910 by the Committee for the Promotion of Studies (Junta para la Ampliación de Estudios) with the goal of contributing to the national renaissance through education and science. For over one century, it has remained the most relevant center of scientific and artistic exchange and creation in our country. Figures such as Ramón y Cajal, Menéndez Pidal, Nicolás Cabrera, Severo Ochoa, Miguel Catalán or Nicolás Sánchez Albornoz worked in the Residencia, helping our country to reach the heyday of our scientific development, the so-called Silver Age of Science in Spain. Other illustrious residents and visitors were Salvador Dalí, Federico García Lorca, Luis Buñuel, Manuel de Falla, Albert Einstein, Paul Valéry, Marie Curie, Igor Stravinsky, John Maynard Keynes, and Le Corbusier, to name a few.
The seven researchers gathered in the round table come from many different countries and disciplines and bring different professional backgrounds, but all of them share a common attribute: their curiosity to know how "things" work, and their commitment to devote themselves to satisfy that curiosity. They also share the satisfaction to know that science is important not only for their own lives, but for others´.
The seven researches are: Abraham Esteve Núñez (Instituto IMDEA Agua), Doctor in Biochemistry, working in the field of microbian bioelectrogenesis; Guillermo J. Reglero Rada, head of Instituto IMDEA Alimentación, a Doctor in Chemistry studying the relationship between genes and nutrients as a way to prevent some chronic diseases through an adequate nutrition; Milan Prodanovic (Instituto IMDEA Energía), a serbian Doctor in Electric and Electronic Engineering working in the design of smarter and more efficient power grids; Ignacio Martín Bragado (Instituto IMDEA Materiales), a Doctor in Physics Science seeking to design innovative materials by replacing real-life experiments with computer simulations; Beatriz Hernández Juárez (IMDEA Nanociencia), a Doctor in Science studying the properties of materials structured at the nanometric scale; Antonio Fernández Anta (Instituto IMDEA Networks), a Doctor in Computer Science studying how can computing and communications help improve energy efficiency: and the young German Doctor in Computer Science Boris Köpf (Instituto IMDEA Software), who focuses his research on the fundamentals of computing security.
The IMDEA institutes where these seven scientists work were created by the Madrid Community Government as high-level teaching and research centers, with two key purposes: conducting leading-edge R+D+i activities that can be internationally competitive and useful for the society at large; and attracting internationally renowned human capital.
The moderator of the round table will be another scientist: Alfredo Poves, Professor of Theoretical Physics in the Madrid Autonomous University. Specializing in Quantum Physics, Professor Poves describes this discipline as a "fascinating exercise of understanding of nature, precisely because it deals with explaining phenomena occurring at such a small scale that they lie fully beyond our daily experience."
Science and society will be the actual protagonists of this roundtable. As a matter of fact, the purpose of the event is to let the public know that there are good scientists in Spain, enable people to make enquiries to them, and make them understand that science is indispensable for the well-being of society, and therefore it is not a luxury, but a need.
More information:
http://www.madrimasd.org/lanochedelosinvestigadores
Madrimasd notiweb (in Spanish): La Noche de los Investigadores – 28 de septiembre de 2012. La Ciencia es mi Vida
Source(s):
IMDEA Networks Institute