Ramón Girona appointed General Manager of IMDEA Networks
20 July 2017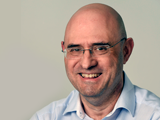 Ramón Girona has joined the Administration team at IMDEA Networks as a General Manager. He will be dedicated to the efficient and effective achievement of the Institute's goals and to providing the exceptional levels of support required by its team of international researchers.
---
Ramón Girona has over 25 years of work experience in multinational environments. He has worked for major companies such as Philip Morris International, Altadis, Abengoa, Repsol or BBVA, occupying a variety of roles in consultancy, strategic planning and project, program and portfolio management.
He brings to the management of IMDEA Networks relevant viewpoints and experience arising from his work as a service manager and a strategist in information and communication technologies, operations & manufacturing, as well as lean management & quality assurance, amongst other areas. During his professional career he has occupied both staff and line roles, gaining a broad and well-founded overview of the overall workings of an organization. This core knowledge is a very valuable asset for the Institute.
As well as two bachelor's and master's degrees in Computer Science and Industrial Engineering, respectively, obtained at University of Las Palmas (Canary Islands), Ramón holds an MBA by the renowned Instituto Universitario de Empresa (Madrid). He is also a certified Project Management Professional by the PMI, as well as a certified Business Analysis Professional by the IIBA. Before joining IMDEA Networks, he was the Director of Business Development at Ruybesa, in Madrid.
Source(s):
IMDEA Networks Institute