Pierre François, appointed Research Associate Professor
15 January 2015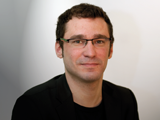 Pierre François has been appointed Research Associate Professor at IMDEA Networks. He is a long-standing member of the Madrid research institute, having incorporated to the team in September 2011. His outstanding track record in his previous role as Research Assistant Professor has now been rewarded with this promotion to a tenure-track position.
Dr. François leads the Routing Research Group at IMDEA Networks. The group carries out research on Internet routing technologies and is currently consulting with Cisco Systems, Inc. on new routing technologies such as, for example, segment routing. He is also leading the Institute's involvement in two research projects (Mapping and Measuring West African Internet and Improving Routing in Service Provider Networks), as well as supervising a group of PhD Students.
Over the last four years Dr. François has authored several high-impact publications in reputed journals and conferences, becoming the winner of the 2013 IETF/IRTF Applied Networking Research Prize (ANRP) for one of them. He has been particularly active on standardization at the IETF with circa twenty contributions, two of which have achieved RFC status.
Research Associate Professors at IMDEA Networks assume a position of responsibility in leading the day-to-day activities of the Institute's research teams. Their expertise and research interests have a significant bearing on the Institute's scientific output and on the careers of their charges. Dr. François is a recognized researcher in the fields of IP Routing scaling and convergence, Internet Routing economics, and Network management, whose wealth of experience and drive towards excellence shall continue to impact the Institute's future in the years to come.
Source(s):
IMDEA Networks Institute