Patricia Callejo, new PhD student at IMDEA Networks Institute
16 November 2015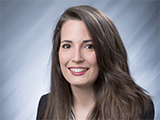 Patricia Callejo is a new member of the IMDEA Networks research team. She will be joining us as a PhD student from October 2015, supervised by Rubén Cuevas, Assistant Professor at University Carlos III of Madrid (UC3M). Her main areas of interest are Online Social Networks Behaviour, Online Advertising Behaviour, Privacy, Data Analytics, and Machine Learning. In relation to her PhD, Patricia will, among other research activities, be working on solutions to protect the privacy of internet users as well as creating tools that offer secure authentication mechanisms for the same end users.
Prior to her incorporation at IMDEA Networks as a PhD student, Patricia Callejo worked as an Intern Student in the same Madrid based research institute. Between her studies and her work, she also performed research work in collaboration with the University Carlos III of Madrid, studying advertising behavior and data analysis in social networks. These areas also formed the basis of her Bachelor Thesis.
Patricia obtained her BSc in Audiovisual Systems Engineering from University Carlos III of Madrid in October 2015. She is now pursuing her MSc from the same university along with her PhD, both in the field of Telematics Engineering.
---
PhD Students at IMDEA Networks
Do you also wish to join our team of young researchers? More information in our Careers opportunities pages.
Source(s):
IMDEA Networks Institute