Noelia Pérez, new PhD student at IMDEA Networks Institute
25 January 2016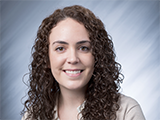 Noelia Pérez has joined IMDEA Networks' research team as a PhD Student starting from January 2016. She will be working on the HyperAdapt research project, led by Antonio Fernández Anta and Vincenzo Mancuso. The latter will also be her supervisor in relation to her Ph.D. studies. HyperAdapt (Modeling and Online Performance Optimization of Adaptive Networks) explores the intensive use of SDN for making the Internet scalable, manageable, and adaptable at an industry-grade level.
Noelia's primary research interests are D2D communication, context-aware mechanisms, wireless communications, and energy efficient networks. IMDEA Networks is not entirely new to Noelia who worked in the Madrid based institute as a Talentum Internship Student during the final year of her B.Sc. studies. Here she carried out the final project of her B.Sc. which dealt with energy efficiency networks, involving reduction power consumption with heuristic algorithms for electronics use planning.
In 2014 she obtained her B.Sc. in Computer Sciences from the University of Murcia (UMU). From September 2016, she will be pursuing a M.Sc. in Telematics Engineering at University Carlos III of Madrid.
Prior to incorporating to IMDEA Networks, Noelia worked in the private sector as a Project Manager for network creation and optimization projects for Telefónica España.
---
PhD Students at IMDEA Networks
Do you also wish to join our team of young researchers? More information in our Careers opportunities pages.
Source(s):
IMDEA Networks Institute