The future internet and multimedia services
05 September 2014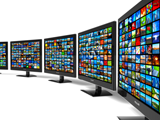 IMDEA Networks Institute announces the completion of the MEDIANET research project. It has accomplished remarkable scientific advances in the optimization of the network and multimedia services that will enable the evolution towards a future internet geared towards video streaming.
Video traffic over the Internet will nearly triple by 2018 and is evolving from the standard-definition transmission to high definition video (HD). It has been predicted that wireless shall soon prevail over wired connections and that access via mobile devices will surpass, for the first time in the history of the Internet, that which has its origin in the PC. But service providers require a large bandwidth to ensure quality of service and a network architecture able to evolve in order to provide efficient support given the growing multimedia content.
In order to improve the quality of experience of the user of multimedia services on the Internet, Madrid-based researchers have created an architecture for real time video distribution over a next-generation network platform. The overall result of this research initiative entails an integrated and independent advance on the protocols, algorithms, switching architectures and standards of the future media Internet.
The potential benefits of this project are diverse and go beyond the improvement of the quality of audio and video for the end user. For IPTV service providers (or TV over the IP protocol), which distribute television or video signals via broadband connections, this platform provides a high degree of flexibility in supply and a potential reduction in operating costs. Effectively the new platform operates independently of the access device, so the IPTV service provider will not have to adapt its content to the different characteristics of the terminal, since the adaptation is performed automatically. A potential application of this feature is also mobile TV or the distribution of video on demand (VoD), which allows visualization in terminals with differing characteristics (smart phones, tablets, computers, television or film screens, etc.). Highly scalable virtual computing platforms provided by cloud computing are ideal for on-demand multimedia services over the Internet. This enables the development of video distribution in the cloud, where multimedia service providers are virtual.
The MEDIANET project (Integration of Next Generation Multimedia Services in the Internet of the Future) has been funded by the Ministry of Education, Youth and Sports of the Regional Government of Madrid and has operated from January 2010 to May 2014. Researchers at IMDEA Networks Institute have collaborated with research groups from three Madrid universities: the Carlos III University, the Autonomous University of Madrid, and University of Alcalá.