Key players in Madrid's research and innovation ecosystem visit 5TONIC
18 December 2018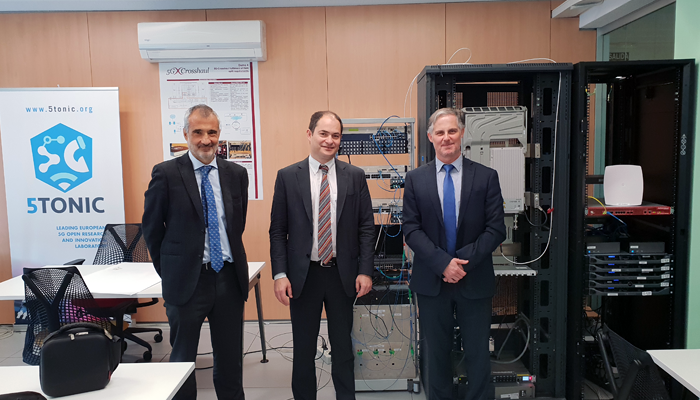 Officials from the Department of Education and Research of Madrid were given a guided tour of the 5TONIC international 5G co-creation laboratory. These key decision-makers and enablers within Madrid's education, research and innovation ecosystem were keen to learn about the lab's current activities to boost technology, entrepreneurship and business innovation ventures.
The 5TONIC lab hosted prominent figures from Madrid's regional government this month.  Mr. Alejandro Arranz, Director General of Research and Innovation, Mr. Rafael García, Deputy Director of Research, and Mr. José Manuel Torralba, Director General of Universities and Higher Arts Education, are key members of Madrid's Department of Education and Research. They took part in an official visit to the 5TONIC lab, headquartered at the IMDEA Networks Institute in Madrid, to learn more about the world-leading research into 5G technology taking place in the laboratory.
5TONIC Vice President Arturo Azcorra led the visit and gave an overview of the laboratory's testing and demonstration facilities. He also presented the lab's plans for future trials of innovative 5G technologies to be undertaken by its 15 member companies and collaborators from the mobile industry community and academia. Azcorra explained that the 5TONIC laboratory – which was co-founded by Telefonica and IMDEA Networks – was launched to promote an open environment where partners are able to test, develop and prove potential 5G use cases in a controlled environment.
Since its inception at the end of 2015, the lab has become a key 5G test site for eleven high-profile EU-sponsored 5G development projects –  five of which have already been successfully completed and six remain ongoing. This continued support of European Commission's 5G research programme for the vertical market trials being undertaken at the 5TONIC laboratory has cemented its position as one of Europe's foremost 5G digital innovation centers.