Institute IMDEA Networks appoints new Scientific Council members
16 November 2010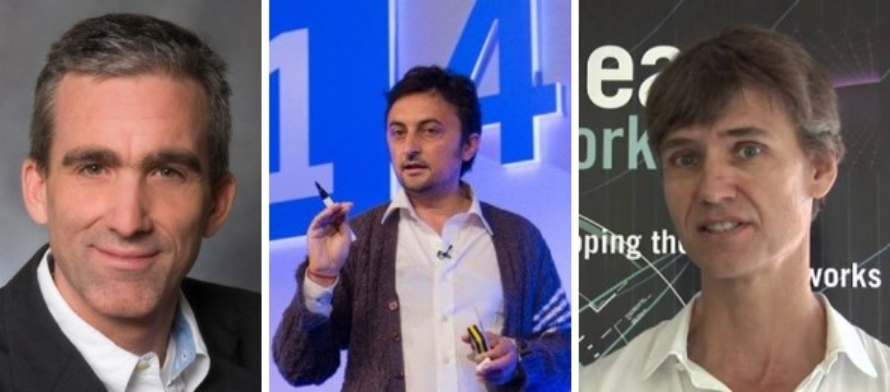 Prof. Dr. Edward Knightly, Dr. Pablo Rodriguez Rodriguez and Prof. Dr. Gustavo de Veciana will advise the Institute on areas including wireless networks, distributed systems and pervasive computing.
---
Institute IMDEA Networks, a research institute in the area of computer networking backed by the Madrid Regional Government, has incorporated Prof. Dr. Edward Knightly, Dr. Pablo Rodriguez Rodriguez and Prof. Dr. Gustavo de Veciana into the Institute's Scientific Council. The incorporation of Prof. Dr. Knightly, Dr. Rodriguez and Prof. Dr. de Veciana was formalized at the Institute's Board of Trustees meeting on November 16, 2010, and their active participation will be consolidated at the Institute's next Scientific Council meeting in May 2011, coinciding with its Third Annual International Workshop. As part of the Scientific Council the three new members will be responsible for advising the Institute on all aspects of its scientific activities, including proposing the incorporation and renewal of Scientific Expert members of the Board of Trustees, reviewing and approving scientific appointments and supporting the Deputy Director in determining scientific research strategy and policies.
Prof. Dr. Knightly is a Professor of Electrical and Computer Engineering at Rice University in Houston, Texas, where he has held professorial positions since 1996. He leads the Rice Networks Group and specializes in areas including mobile and wireless networks and high-performance and denial-of-service resilient protocol design. Prof. Dr. Knightly received his Ph.D. and M.S. from the University of California at Berkeley and his B.S. from Auburn University.
Dr. Rodriguez is Research Director at Telefonica R&D as well as the Director of Telefonica's Barcelona R&D Lab and adjunct faculty professor at the Department of Computer Science at Columbia University, New York. His background includes roles with Microsoft Research, Bell Labs, and various Silicon Valley startups, and his research areas include networking, distributed systems, information theory, wireless and mobile, network economics and social networks. Recent research includes the scalability of social networks and green areas such as reducing energy consumption in IPTV networks. Dr. Rodriguez received his Ph.D. from the Ecole Polytechnique Federale de Lausanne (EPFL) and a B.S./M.S. in Telecommunication Engineering from the Public University of Navarra.
Prof. Dr. De Veciana is a Professor of Electrical and Computer Engineering at the University of Texas at Austin, and has served as the Director and Associate Director of the university's Wireless Networking and Communications Group (WNCG) and as editor for the IEEE/ACM Transactions on Networking. His research areas include analysis and design of wireless and wireline telecommunication networks; architectures and protocols to support sensing and pervasive computing; and applied probability, queueing and information theory. He received his B.S., M.S, and Ph.D. in electrical engineering from the University of California at Berkeley.
The Institute has also announced the departure from the Scientific Council of former members David del Val Latorre, Dr. Lixia Zhang and Dr. Zhi-Li Zhang. The three researchers have as of November 2010 joined the Institute's Colleague Network, which provides a venue through which scientists can maintain a long-term collaborative relationship with the Institute.
Source(s):
IMDEA Networks Institute