IMDEA Networks, at the European Researchers' Night Madrid 2023
As in 2022, the theme focused on how IMDEA's research team works to fulfill the 5 EU missions and achieve a better future
02 October 2023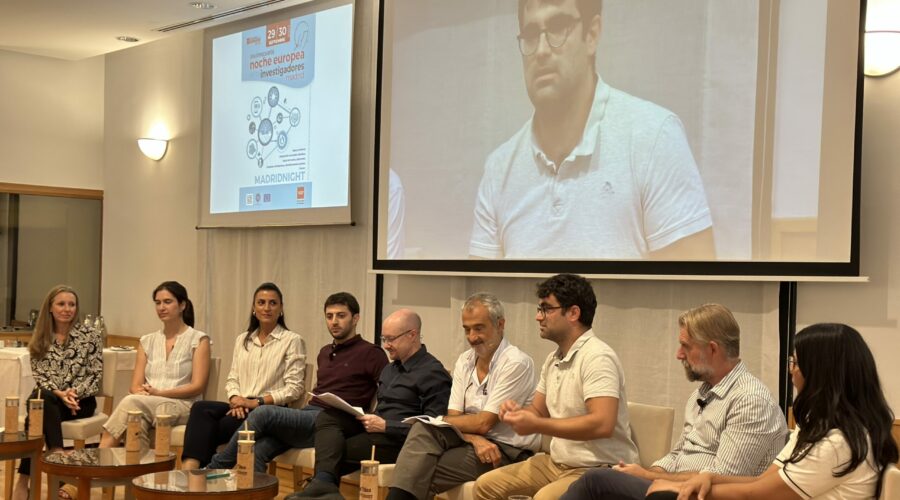 Our Research Assistant Professor Guillermo Suárez-Tangil participated on September 29th in the event organized within the framework of the European Researchers' Night at the Residencia de Estudiantes in Madrid together with his colleagues from the IMDEA Institutes. This annual event is coordinated by the Fundación para el Conocimiento madri+d and is part of an action framed within the European program Horizon Europe.
During the activity, the IMDEA Institutes' research team spoke about the lines of research and projects being developed at their centers. They expressed the efforts that, from their respective scientific areas, they are making to help fulfill the 5 missions of the EU to achieve a better future. These are priorities and are directly related to trying to curb climate change, restore our oceans, obtain healthier food, win in the fight against cancer and have smarter and more sustainable cities.
In this colloquium moderated by the directors of IMDEA Software and IMDEA Materials, Manuel Carro and José Manuel Torralba, the researchers gave their personal views on what society as a whole can do to help fulfill these missions. In addition, the public was able to get to know the group of participating scientists first hand, understanding what led them to dedicate themselves to research. At the same time, the groups of students from the Madrid schools in attendance received advice from them on how to pursue their dreams and study what really motivates them.
IMDEA Food talked about the importance of eating a correct and healthy diet as a method of cancer prevention. Likewise, Nanoscience talked about how they are working on the study of neurodegenerative diseases and Materials focused on the substitution of fossil fuels with hydrogen or renewable sources. IMDEA Water explained how to purify water without consuming energy.
Finally, IMDEA Software and Networks researchers showed us that software and communication networks are in practically everything around us, and that making them more efficient, secure and reliable is essential to reduce their costs and extend their benefits to the entire world population.
Guillermo explained why cybersecurity in smart city communication networks is essential. It must be considered that they rely heavily on the interconnection of devices and systems to improve the efficiency and quality of life of their inhabitants. However, this interconnectedness also creates vulnerabilities to cyberattacks. Protecting the infrastructure, security and privacy of citizens is crucial in the smart city environment.
In this context, the use of natural language processing technologies has positioned itself as one of the emerging mechanisms for integrating smart services in cities. Personal assistants such as Amazon Alexa or technology that relies on services derived from ChatGPT allow the development of Chatbots that bring intelligence to cities.
Source(s):
IMDEA Networks Institute