Ignacio Aguado: "Investing in science is to invest in the future"
Meeting of the Community of Madrid's vice-president with the directors and managers of the seven Madrid Institutes for Advanced Studies
10 February 2021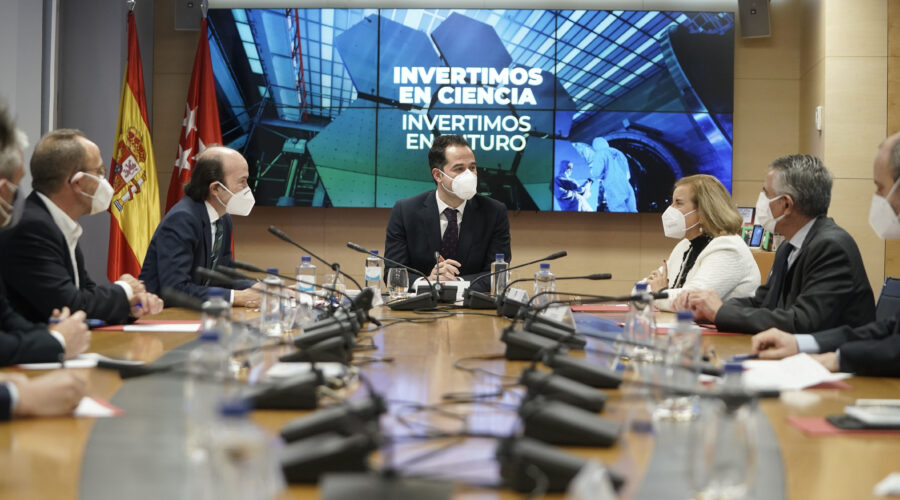 Vice-president, Regional Minister for Sports, Transparency and Spokesman for the Community of Madrid, Ignacio Aguado, met with the directors and managers of the seven Madrid Institutes for Advanced Studies (IMDEA). The purpose of the meeting, during which Aguado confidently pronounced that "investing in science is to invest in the future," was to find out the challenges that the IMDEA Institutes are facing and the large challenges they have ahead of them.
Madrid's vice-president avowed that recovery demands a firm commitment to a solid knowledge-based economy. To this end, driving forward research and innovation is necessary—he said—"as a lever for growth.  Without science, there is no future and no progress," he concluded. In this regard, Aguado has advanced that the budgets negotiated at top levels within the Government of the Community of Madrid for 2021 consider a substantial increase for science and innovation, which has increased by 30% compared to previous years.
The regional government's firm commitment to research "is clear and more resolute than ever, especially given the worldwide circumstances stemming from the pandemic," stated Aguado, who supports "continuing to put science at the center of politics," and build "a state-of-the-art region that shirks conformity." In his opinion: "we have a unique opportunity in the Community to fully endorse science."
"We conduct state-of-the-art research that we then employ in the production sector"
The director of IMDEA Networks stressed during his participation, as the spokesman for all IMDEA Institutes, "the vision of Regional Minister Sicilia, Vice-president Aguado and the entire government of the Community of Madrid for their firm commitment to a knowledge-based society and, therefore, to research and technology." "Citizens—pointed out Azcorra—are increasingly more aware that research and welfare are totally synonymous: research equals employment and high-quality jobs. It is economic growth, better education and better health for all citizens. At the seven IMDEA Institutes in the Community of Madrid, we conduct state-of-the-art research and then implement this research in the production sector. Our cutting-edge research results are just as important as the improvements to employment, economic growth, education and health that our discoveries and patents are causing. Great success that is the catalyst to ensure that Madrid is a knowledge economy."
Lever for transformation
During the meeting, the vice-president officially endorsed the autonomous-community government's support for these institutes, which "are the best and most successful example of focusing on strategic fields of regional scientific and technological research." Support that can be extended to specific lines of research and actions in the disruptive technologies they are developing.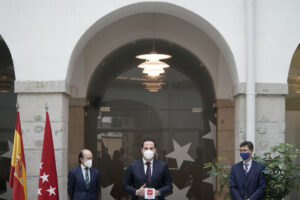 The Community of Madrid has seven Madrid Institutes of Advanced Studies, for: Water, Food, Energy, Materials, Nanoscience, Networks and Software. Founded in 2006 and 2007, over the course of these years over 1427 R&D projects have been executed. Their mission is to be a level for transformation in society and industry, by generating knowledge and technology in specific fields with high socioeconomic impacts, identified as strategic both by businesses and by society.
The 726 people who are currently working on R&D projects at IMDEA generated an activity volume of 41.4 million euros in 2019. Half of this amount came from funds provided by the Community of Madrid and the other 50% was from external funding. The centers raised the additional funds via public competitive tenders (international, Spanish and regional), as well as via agreements with companies. They have signed 556 agreements with companies throughout the world, including Microsoft, Google, Airbus and Boeing. They also hold top positions in international rankings for their scientific publications and have 38 patents granted and have applied for another 32.