Where GPS fails
28 July 2014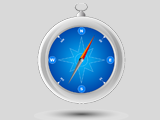 From the military, to business, to the end-user, mobile location mechanisms are an everyday reality . But there is still large room for improvement on this critical area of research. Thus, IMDEA Networks Institute and Armasuisse – Science and Technology have signed a collaboration agreement to perform specialist research work on pervasive mobile location.
The objective of this project is to devise a modular mobile positioning architecture that integrates opportunistic radio-localization signals in a radically different manner to the current approach. The vision is of a wireless mobile device that can pervasively position itself by integrating satellite navigation and network communications. The project especially targets areas such as the gray zone, where signals from one positioning technology (even the 'de-facto' standard technology: GPS) do not suffice to locate the device. The new system aims to integrate different technologies to achieve fine-grained and seamless mobile positioning with accuracy and coverage not possible nowadays.The project addresses challenging questions. It explores the fusion of timing signals originating from satellite navigation with the opportunistic signals inherent in Wi-Fi and other radio-based communications. As a concrete example, nowadays a device cannot be located when in range of only two satellites. The project addresses this use-case, augmenting the timing information with the one received from one WiFi Access Point. The research is performed through a mix of simulations, measurement campaigns and experiments.
Dr. Domenico Giustiniano, Research Assistant Professor at IMDEA Networks, will be leading the Institute's contributions to this project. The project, formally known as "Opportunistic Timing Signals for Pervasive Mobile Location", is formally operative from April to September 2014.
Source(s):
IMDEA Networks Institute