Domenico Giustiniano, appointed Research Associate Professor
17 February 2016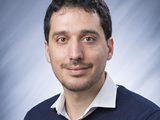 Dr. Domenico Giustiniano has been appointed Research Associate Professor at IMDEA Networks Institute. He joined the team in 2013 in the role of Research Assistant Professor. His outstanding track record in his previous role has now been rewarded him with this promotion.
---
Dr. Domenico Giustiniano has proven his ability as a highly talented scientist with a problem-solving and innovative approach to scientific challenges. He has several years of experience in wireless network systems. He has authored more than 60 publications in reputed journals and conferences, including top conference venues such as ACM MobiCom, ACM CoNEXT (5), IEEE INFOCOM, ACM/IEEE IPSN (2), and journals such as IEEE Journal on Selected Areas in Communications, IEEE/ACM Transactions on Networking and IEEE Transactions on Wireless Communications. As group leader of the Pervasive Wireless Systems Group, Dr. Giustiniano has extensive experience in leading and participating in funded research projects such as MATISSE (industrial project), mmMAGIC (EU H2020 PPP), and Flex5gware (EU H2020 PPP). Additionally, he supervises a group of PhD Students, as well as a Post-doc Researcher and an engineer. Last but not least, Domenico was the General co-chair of IFIP/IEEE SustainIT 2015.
Dr. Giustiniano has consistently tackled systems problems of the most challenging nature, and succeeded in making significant breakthroughs. He has also been the recipient of several academic and industry-led awards. Thus, he won a Best Paper Award for a scientific article on Visible Light Communication, received two Disney Inventor Awards, and the Best Project Award in 2010 granted by Telefonica Research and Development. His supervision quality is exemplified by the award received by one of his PhD students, Qing Wang with the "2014 Chinese Government Award for Outstanding Self-Financed Students Abroad". Furthermore, he is a recipient of the Fellowship 'MARIE CURIE' AMAROUT Europe Program. His approach to scientific work is oriented towards devising solutions for real-world problems based on real-world assumptions which is also shown by the five patents he has already obtained, some of which are finding their way towards commercialization.
Dr. Giustiniano devotes most of his current research to emerging areas. His group has the goal of providing pervasive and seamless communication using innovative wireless systems. The current main areas of research are visible light communication networks, where he leads the initiative to create an open-source and low-cost platform for research (OpenVLC, http://www.openvlc.org), mobile indoor localization with seamless fusion of different wireless technologies, distributed and scalable wideband spectrum monitoring system, and protocols and algorithms for mm-wave communication systems.
Source(s):
IMDEA Networks Institute