Dario Bega, new PhD student at IMDEA Networks Institute
09 September 2015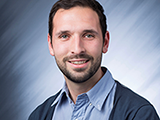 Dario Bega is a new member of the IMDEA Networks research team. He will be working as a PhD student from September 2015, becoming part of the NETCOM Lab and working directly under the supervision of Albert Banchs, Deputy Director at IMDEA Networks.
Dario´s main areas of interest are Wireless Networks, Mobility, Software Defined Networking, and Security. His PhD will focus on the field of Wireless Networking.
Dario graduated from the University of Pisa, Italy, in 2010, with a BSc in Telecommunication Engineering and a specialization in Telecommunication Networks. In 2013 he went on to obtain an MSc with Honors also in Telecommunication Engineering from the same university. After graduating, he started working for Commprove S.p.A as a Junior Product Manager, focusing on maintenance and development of new mobile network products. Subsequently, in the summer of 2015, he worked as a Security Consultant at Communication Valley Reply, Milan, Italy, where he took part in the UniCredit UBIS Group project.
---
PhD Students at IMDEA Networks
Do you also wish to join our team of young researchers? More information in our Careers opportunities pages.
Source(s):
IMDEA Networks Institute