CommScope, worldwide provider of communications network infrastructure solutions, joins 5TONIC lab
15 June 2016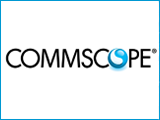 5TONIC and IMDEA Networks Institute are proud to announce that the multinational telecommunications company CommScope has joined 5TONIC, the first laboratory of 5G excellence in Spain. Founded last autumn by experts from Telefónica and the research institute IMDEA Networks, 5TONIC exists as an open ecosystem for innovation and research based in Madrid, which also counts with Intel and Ericsson Spain amongst its members.
---
The 5TONIC laboratory consolidates its role as an innovation hub in 5G networks with the additional membership of one of the world's premier global network infrastructure providers. CommScope designs, builds and manages vital wired and wireless network infrastructure for companies around the world. This know-how will enable CommScope to provide a unique perspective on the network technologies, designs and architectures required to make 5G applications possible.
At 5TONIC industry, academia and research come together to further the development of 5G technologies. At this early stage, 5G application scenarios are still being defined, and lab work is required to outline the suitable infrastructure that will enable the rollout of 5G networks. 5TONIC exists for this purpose and will operate at least until the first 5G products are commercially viable, which is expected to happen approximately in 2020.
With the above goals in sight, 5TONIC facilitates the performance of field tests and demonstrations of all the technologies and equipment which will make up 5G communications, including its services and applications. 5TONIC is the first laboratory in Europe that is taking such investigative processes from an eminently practical perspective. The members can carry out viability tests of a specific technology, determining hidden deployment costs, and analyzing all aspects of the system as well as the complexity of all the different solutions. In this sense, the laboratory will empower various sector players interested in conducting realistic analysis of the technologies that could graduate to 5G, who are also keen to accelerate innovations needed in network architecture to enable cases of use and applications on multiple industrial sectors.
5G networks are the key to the age of "all-connected" that is right at hand. Even though 5G networks are still in an initial phase of development, the consensus of sector experts estimates that the next mobile generation will considerably improve latency, the transportation of volumes of data will be 1,000 times greater than currently, will allow for the increase of the number of devices simultaneously connected between 10 and 100 times, and increase the life span of batteries up to 10 times, among others advances. Cases of future use such as the remote control of robots or the interconnection of sensors, plus the demands of mobile clients of the futures, shall require super-fast and top quality connections with latency levels practically nil.
About CommScope:
CommScope (NASDAQ: COMM) helps companies around the world design, build and manage their wired and wireless networks. Our vast portfolio of network infrastructure includes some of the world's most robust and innovative wireless and fiber optic solutions. Our talented and experienced global team is driven to help customers increase bandwidth; maximize existing capacity; improve network performance and availability; increase energy efficiency; and simplify technology migration. You will find our solutions in the largest buildings, venues and outdoor spaces; in data centers and buildings of all shapes, sizes and complexity; at wireless cell sites; in telecom central offices and cable headends; in FTTx deployments; and in airports, trains, and tunnels. Vital networks around the world run on CommScope solutions.
Source(s):
IMDEA Networks Institute