Ander Galisteo Zabalo, new PhD Student
11 October 2016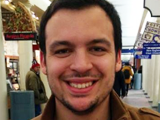 Ander Galisteo Zabalo has become a member of our research team. He will be working as a PhD Student from September 2016 within the Pervasive Wireless Systems Group led by Dr. Domenico Giustiniano. His main areas of interest are Wireless Networks and Communications, Visible Light Communications and the Internet of Things.
---
Prior to his incorporation to IMDEA Networks, Ander worked in the United States, as a Teaching assistant at the University of Houston, in Texas.
In 2014 he obtained his B.Sc. in Telecommunications Systems Engineering from the University of Navarra (Universidad de Navarra) (San Sebastián, Spain). He received the Outstanding Graduate of the Year Award (ranked 1st in his class) upon the completion of the degree. In 2016 he has received an M.Sc. in Telecommunications Engineering from University of Navarra and an M.Sc. in Engineering Technology: Network Communication Track from the University of Houston. He has also been the beneficiary of several prizes and scholarships such as the Kutxabank Prize to the best academic record, the Banco Santander-Universidad de Navarra Scholarship for masters' students, a grant that promotes international student mobility given by Caja Rural de Navarra and the La Caixa Scholarship that supports Ph.D. studies in Spain. The latter funding will be applied to his pursue of a Doctorate degree in Telematics Engineering at the University Carlos III of Madrid.
---
PhD Students at IMDEA Networks
Do you also wish to join our team of young researchers? More information in our Careers opportunities pages.
Source(s):
IMDEA Networks Institute