ACM MobiCom 2023: Madrid becomes the epicenter of the technological revolution with a cutting-edge conference
Great balance of the 29th edition of the conference on mobile computing and networking, organized on this occasion by IMDEA Networks
06 October 2023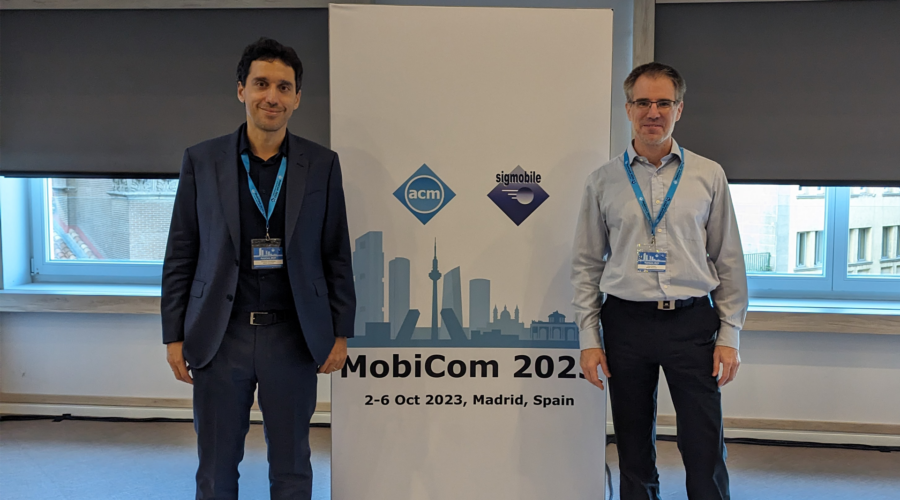 Madrid hosted the twenty-ninth edition of the prestigious international ACM MobiCom 2023 conference, held at the Riu Plaza de España hotel from October 2-6, with IMDEA Networks as part of the event's organizing committee. IMDEA Networks' Research Director and Research Professor Joerg Widmer is the general chair of the conference and Domenico Giustiniano, Research Associate Professor, is the vice chair.
The MobiCom conference series is a highly selective international forum focusing on the networks, systems, algorithms and applications that support mobile computers and wireless networks. In addition to its regular program, attendees have been able to participate in a variety of workshops, research demonstrations and a poster session including the ACM student research competition.
"In this edition, IMDEA Networks has managed to convene 400 participants, in one of the most outstanding editions in recent years," says Giustiniano. The 30% coming from Europe, 32% from North America and 36% from Asia gives an idea of the international relevance of this event, which counts NEC as a platinum sponsor, Microsoft (gold) and Google Research, Bosch, vmware and i2Cat (bronze).
MobiCom'23 underlines the importance of novelty and creativity, to provide a broader and more inclusive view of research in wireless and mobile systems. A context in which IMDEA Networks researchers Rafael Ruiz, Domenico Giustiniano, Joerg Widmer were represented by the paper 'Bringing Millimeter Wave Technology to Any IoT Device', together with Mohammad Mazaheri and Omid Abari (UCLA).
The organization stresses the importance of the innovation fostered in this type of meeting: "The more novel the concept, the more difficult it may be to develop or fully evaluate all its aspects; the more practical and developed the system, the more it will be necessary to take advantage of simple and sometimes well-known techniques. The review process will take both cases into account, as intellectual merit and novelty can be found in techniques, system designs, implementations and applications. The review process will also favor papers that describe how the authors will provide access to well-documented data sets, modeling and/or simulation tools and code bases to support the reproducibility of their methods, as well as papers that highlight and discuss not only the significance but also the limitations of the work."
They also highlighted the celebration of the N2Women event, to promote connections between underrepresented women in computer networks and related research fields, as well as the usual awards for papers in different categories. Part of an outstanding sample of what technology transfer to society entails.