A geospatial study identifies the most vulnerable areas to COVID-19
The report has been carried out by researchers from the University Carlos III of Madrid and the company TAPTAP Digital. Patricia Callejo, co-author of the research and PhD student at IMDEA Networks, explained the conclusions in an interview on TVE's 'La Mañana' program
05 June 2020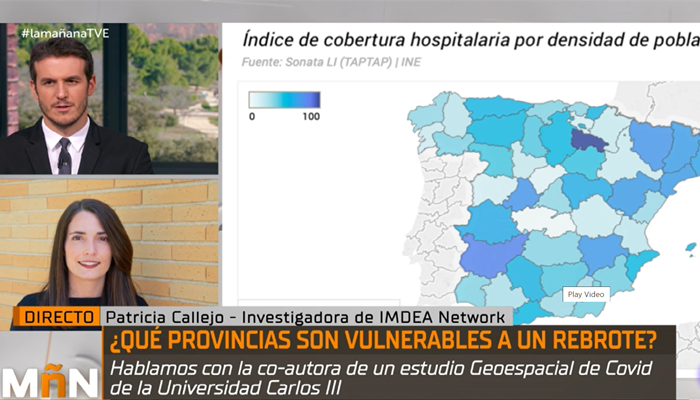 Some Spanish areas are more likely than others to suffer a coronavirus outbreak and, therefore, would require greater protection measures against a second wave of COVID-19. The study of mobility during confinement indicates this, based on geospatial analysis. It's been carried out by researchers from the University Carlos III of Madrid (UC3M) in collaboration with TAPTAP Digital, using additional data from Predicio and Tamoco.
Patricia Callejo, PhD Student at IMDEA Networks, is co-author of this research together with one of the members of the institute's Alumni Network, Marco Gramaglia (Post-Doc Researcher at UC3M). Professors Rubén Cuevas and Ángel Cuevas, from the UC3M's Telematics Engineering Department, have also participated in it.
This Thursday 'La Mañana' on TVE has interviewed Callejo, who has highlighted the key results that this report has produced (also mentioned in 'Telediario 1' and Canal 24 horas). Firstly, Madrid and Barcelona are the cities where there is a higher risk of contagion due to their population density. Likewise, Salamanca, Toledo, Segovia, and Navarra are the most unprotected regions due to their lower health coverage in relation to their vulnerable population. On the other hand, Cantabria, Guipúzcoa, and Castellón are the most vulnerable owing to their proportionally high concentration of risk populations.
"In this multivariate study, carried out thanks to the technology of TAPTAP Digital, we crossed static and dynamic sources: the mobility of users, the population density and access to critical points of interest such as the hospitals, pharmacies or supermarkets that exist in each province, among others.", explained Patricia Callejo on the television magazine.
In addition, the researcher has advanced in 'La Mañana' on TVE, that they have begun a study in which they intend to analyze interprovincial mobility towards the new normality in order to know which area the citizens are going to go to when the Government allow mobility between provinces.
Listen to Patricia Callejo from hour 2:17:00