5TONIC showcases 5G advances at EuMW2018 in Madrid
05 October 2018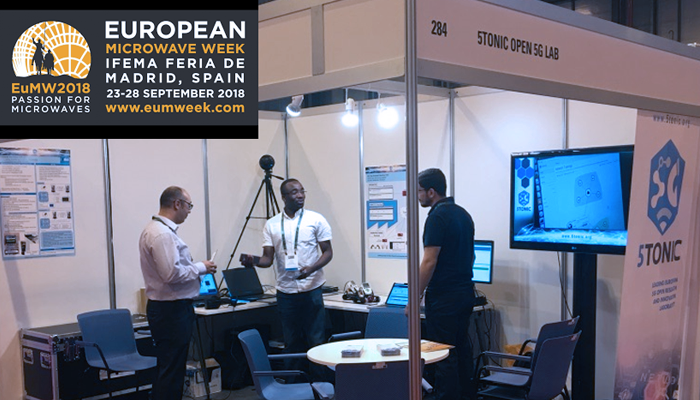 The 5TONIC team are recently returned from a successful visit to European Microwave Week 2018 (EuMW 2018) – a six day international event that included a special three day (September 25-28) exhibition in Madrid's IFEMA Congress center.
---
EuMW2018 featured more than 300 exhibitors, and there were also three major conferences, with many associated workshops, tailored courses and seminars for industries, representatives, academics, and researchers. Altogether, more than 1500 delegates attended the conferences and seminars and some 4000 people visited the exhibition.
The 5TONIC stand at the show featured demos by InterDigital and Madrid's Carlos III University (UC3M), as well as a display highlighting recent developments carried out by the millimeter wave team at IMDEA Networks.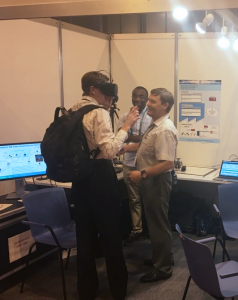 The UC3M demo featured a use-case of Edge robotics. Thanks to the virtualized networks functions in 5G, operators will be able to provide a "slice" of resources – computing, storage, and radio access – to specific vertical applications such as robotics. This enables rapid service deployment and dedicated robotics management isolated from the rest of the network and adapted to the customer requirement. The demo showcased the rapid service deployment as well as using remote robot motion control to demonstrate its capabilities and functions.
The InterDigital demo, developed in the context of the 5G CORAL European project being operated in cooperation with Taiwan, showed an immersive 360 experience with End-to-End video service distributed across a hierarchy of Edge or Fog Nodes. This experience is  supported by an integrated system of heterogeneous computer entities and a microservice architecture that aligns completely with the larger trend towards fully cloud-native system design.
The stand also featured several videos highlighting the projects and use cases that are currently underway within the 5TONIC co-creation laboratory. EuMW2018 was an opportunity to introduce 5TONIC to an audience of RF specialists, as well as an opportunity to see some of the main advances that companies like 5TONIC collaborator Rohde & Schwarz and others have developed for making 5G a reality.