5TONIC partners showcase live demonstrations of Edge Robotics technology in Taiwan
08 January 2019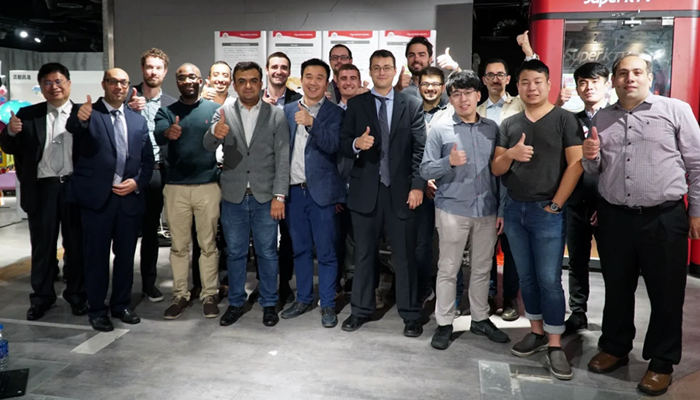 High-profile EU-sponsored 5G development project 5G-CORAL successfully performs first edge robotics trial in Taiwan six months ahead of schedule.
Building on work carried out in the Madrid laboratory, 5TONIC member organizations Universidad Carlos III de Madrid (UC3M), InterDigital, and Ericsson – working alongside other European and Taiwanese partners in the 5G-CORAL project – staged the demonstration at the Global Mall Nangang Station Store in Taipei, Taiwan.
Among the 5G technologies developed by the project team and demonstrated within the store were Fog Assisted Robotics, 360 adaptive streaming, Multi-RAT IoT Gateway and an Augmented Reality-based navigation system to help guide the robots undertaking the delivery and cleaning services.
Prior to the public trial, the project leaders met with the head of Taiwan's 5G Office, CTO Chang, to preview, in a private session, the demonstrations integrated within the shopping mall and to discuss the technology's evolution and potential.
The 5G-CORAL project will be validated in two further testbeds. After this first trial, there will be a second demo to be held on a high-speed train in Taiwan, and the third will involve connected cars in both Taiwan and Italy.
5G-CORAL is one of several EU projects currently performing 5G technology trials at the 5TONIC co-creation laboratory in Madrid, which was co-founded by Telefonica and IMDEA Networks and now comprises nine collaborating organizations from industry, research and academia.  The 5G-CORAL project is using 5TONIC's laboratory as one of its main venues for prototyping and experimenting with the integration of Fog, MEC and Cloud over a mobile network using an OpenAirInterface LTE implementation.
More information at: http://5g-coral.eu
*5G-CORAL: A 5G Convergent Virtualised Radio Access Network Living at the Edge