5TONIC news: participation in ESIC's Mobile Talks, at FITUR 2020...
At the conference organized by ESIC and Mobile World Capital Barcelona, Ignacio Berberana and Manuel Lorenzo explained what the take-off of the new 5G networks will mean at both an economic and a social level
22 January 2020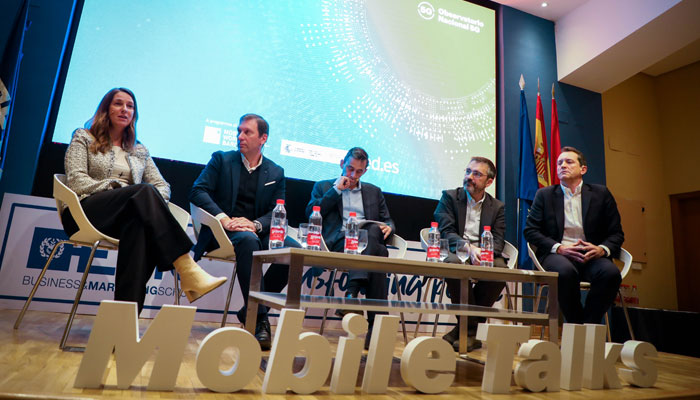 On 20 January 2020, 5TONIC (the open 5G laboratory of which IMDEA Networks Institute is a founding member together with Telefónica and Ericsson España) participated in the first Mobile Talks organized by ESIC Business & Marketing School, titled "New opportunities arising from 5G." At the conference it was highlighted how 5G networks will allow the emergence of new services and solutions that will benefit the economy and society as a whole.
The conference was presented by Federico Ruiz, head of the National 5G Observatory, and included a round table discussion with the participation of Ignacio Berberana, Senior Research Engineer at 5TONIC; Carlos Becker, Director of Public Administration and SmartCities at Vodafone; Mercedes Fernández, Innovation Manager at Telefónica Spain and Manuel Lorenzo, Head of Technology & Innovation at Ericsson Spain (and member of the Steering Board of 5TONIC). Berberana pointed out the challenge of developing an "operationally complex" process, with "the appropriate technological and commercial solutions" as well as the need to establish adequate interaction mechanisms, as in the case of SMEs. An exciting, transversal process, in which, as Manuel Lorenzo pointed out, "5G is the Internet of this decade, in which we can already see, for example, how a surgeon talks about latency."
On Wednesday 22 January at 4pm, 5TONIC will also be participating in the presentation organized at FITUR by SEGITTUR (Sociedad Mercantil Estatal para la Gestión de la Innovación y las Tecnologías Turísticas) in collaboration with Ericsson Spain, Yerba Buena VR, Telefónica and UC3M. There will be a demonstration of virtual reality based on 5G and applied to the tourism sector, which offers immersive, high quality 360º video experiences, allowing the development of experiential tourism in the digital world.
Other recent results of 5TONIC's work (in this case in December 2019) have been reported in the media such as Naucher and Infodron. These articles report how Madrid-based company Utek has validated a system for the use of mobile technology in the control of unmanned boats, in collaboration with Telefonica, Ericsson and 5TONIC, through a test on the San Juan reservoir, near Madrid, using Telefonica's 4G commercial network.
Source(s):
IMDEA Networks Institute