5TONIC and the tech start-up Telcaria sign a collaboration agreement to develop a measurement system for use cases
26 May 2020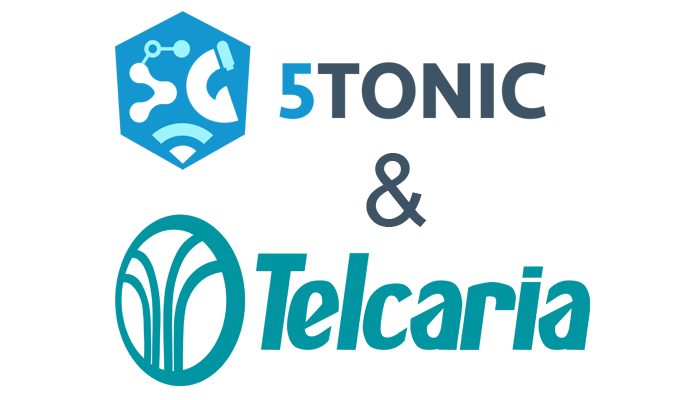 The open 5G research and innovation laboratory founded by Telefónica and IMDEA Networks, 5TONIC, has signed a collaboration agreement with Telcaria, an innovative tech company specialized in services based in Software Defined Networks (SDN) and Network Function Virtualization (NFV) technologies, both in the 5G network environment and in the virtualization of network services.
The partnership focuses on the activities that Telcaria carries out in cooperation with other 5TONIC members, in the context of several European projects, its solutions to the laboratory environment, as well as to develop a system that automates the monitoring of different network functionalities, both physical and virtual, that can be used for the evaluation of different use cases.
Telcaria is a highly innovative start-up which origin comes from the University Carlos III of Madrid (UC3M). Most of its services are applied to the university environment, providing a wide range of networking equipment and supporting in the design and deployment of campus networks, as well as in their automation and management. Telcaria also designs and implements custom solutions applied to higher education and research centres.
Moreover, Telcaria participates in important European research projects on 5G, such as 5G EVE and 5GROWTH, which objectives are the implementation and testing of advanced 5G infrastructures in Europe applied to vertical industries. In these projects, Telcaria participates alongside with 5TONIC members: IMDEA, Ericsson and the UC3M; and the lab collaborators ASTI, Innovalia and Nokia. Telcaria also participates in 5G-DIVE, a cooperation project between Europe and Taiwan where 5TONIC members Telefónica, Ericsson, UC3M and InterDigital participate as well.
"We are especially pleased to reach this partnership with Telcaria, at a time when innovation is going to be more important than ever. The monitoring system they are developing in the 5G EVE project will be really important in the development of the different use cases with which we work in the laboratory… "said Arturo Azcorra, Vice President of 5TONIC; "…one of the main objectives of 5TONIC is precisely to facilitate the 'go to market' to innovative ideas from talented small and medium-sized companies, so this partnership with Telcaria demonstrates the importance of the laboratory in the ecosystem of Spanish startups."
Marifeli Sedano, CEO of Telcaria Ideas, said: "For Telcaria, we foresee the participation in 5TONIC laboratory as an opportunity to consolidate our relationship with its members and to further evolve and promote our product portfolio together. This agreement will facilitate our current collaborations and will also enable Telcaria to validate and further test its current 5G solutions".
---
About 5TONIC
5TONIC was initiated by Telefónica and IMDEA Networks Institute with a clear vision to create an open research and innovation ecosystem laboratory in which industry and academia come together to boost technology and business innovative ventures. The laboratory promotes joint project development, joint entrepreneurial ventures, discussion fora, events and conference sites, all in an international environment of the highest impact. 5TONIC serves to show the capabilities and interoperation of pre-commercial 5G equipment, services and applications, by leading global companies in the 5G arena. The laboratory was recently awarded Digital Innovation Hub status by the European Commission
About Telcaria
Telcaria is an SME providing advanced services to network operators and equipment manufacturers worldwide. Partnering with network operators to redesign their products towards NFV and SDN based network infrastructure and cloud-computing applications. Telcaria is headquartered in Madrid, Spain, and has collaborations with the IMDEA Networks and top Universities in the area: UC3M, UPM and UAH. This critical mass of networking expertise located in very close proximity creates many synergies, having the members of these institutions a history of fruitful collaboration between them. The company is currently working in three H2020 EU projects (5GEVE, 5GROWTH and 5G-DIVE), collaborates as an expert in the Master of SDN&NFV technologies offered by UC3M and is currently actively developing and commercially distributing Alviu, its SD-WAN solution.