Wireless Communication to improve transportation of the future: IMDEA Networks at Science & Innovation Week
Students from IES Siglo XXI and IES Cañada Real attended the activity organized at the Institute
14 November 2022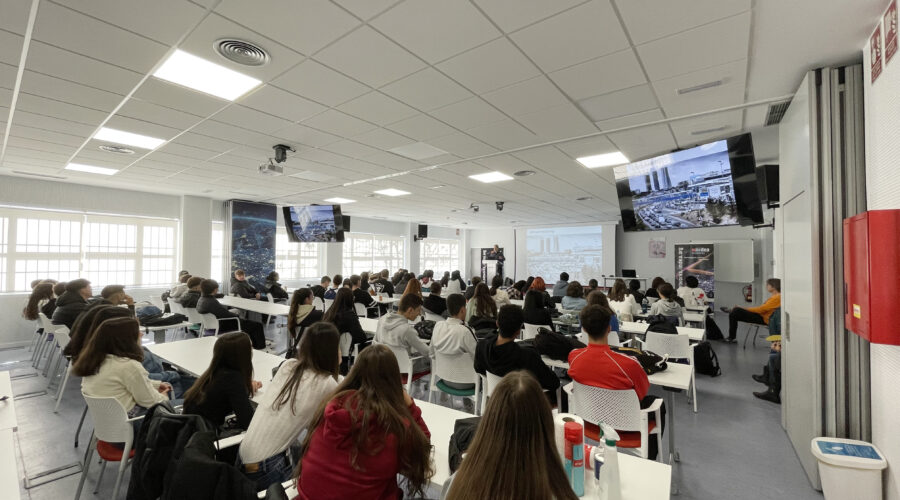 As every year, IMDEA Networks has participated in Science and Innovation Week, a science outreach event organized by the Fundación para el Conocimiento madri+d with the aim of bringing science closer to society and awakening scientific vocations. On November 10 and 11, around 120 students of the 4th ESO of the IES Siglo XXI of Leganés (Madrid) and 28 students of the Middle-Level Training Cycle of Microcomputer Systems and Networks and high school of the IES Cañada Real of Valmojado (Toledo) visited our headquarters.
The students learned how communication technology can help to improve the transportation of the future thanks to a talk in English by Dr. Markus Fidler. The researcher talked about SocialCars, the project that aims to answer the key question: "How can society's needs for a livable urban space be reconciled with individual needs for efficient and safe transport?".
SocialCars is a research training group funded by the German Research Foundation on the topic of cooperative (de)centralized traffic management. The aim of SocialCars is to make the urban traffic of the future more city-friendly.
The technological enabler of cooperative traffic is wireless communication, such as Wifi-based vehicular ad-hoc networks and cellular networks 4G, 5G, and beyond 5G. By exchanging state data, i.e., the position, direction, and speed of road users, cooperative awareness is achieved. This helps to coordinate traffic and increase safety. Collective perception is achieved by sharing and fusing sensor data, e.g. camera, lidar (laser-based object measurement and detection system), or radar from different vehicles. This data is especially useful for protecting vulnerable road users, such as pedestrians and cyclists, in shared spaces.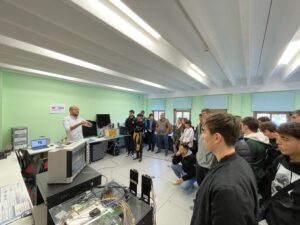 In addition, on November 10th, the group of students from IES Siglo XXI visited 5TONIC with Ignacio Berberana. Our Senior Research Engineer told them about some 5G use cases that are being developed in the open innovation lab founded by IMDEA Networks and Telefónica. At the same time, he explained the differences between 5G Non-Standalone (5G NSA) and 5G Stand-Alone (5G SA). At the moment, commercial 5G is in this first 5G NSA phase. However, at 5TONIC they already have a network core defined for 5G (5GC), which enables the support of SA access.
On the other hand, during the second day, IES Cañada Real enjoyed the visit to the laboratories of Millimeter Wave Networking and LiFi, where Jesús Omar, Dayrene Frómeta, and Javier Talavante showed them the research they are carrying out. In the first one, they work in the millimeter wave band to transmit large volumes of data with low latency. In the case of LiFi, they transmit data with wireless communication devices without batteries that work through light. Finally, they could see a real data processing center (DPC).
Source(s):
IMDEA Networks Institute