A network one thousand times faster
26 February 2014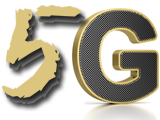 IMDEA Networks joins the project to accelerate the fifth generation of EU networks
---
European project. Only a year ago Spaniards began to enjoy 4G mobile networks, which increase tenfold the transmission rates of mobile data when compared to the third generation. Despite the youth of this technology, the European Commission has created the 5G Infrastructure Association, an entity in which various technology companies such as Telefonica, Orange, Alcatel-Lucent and Huawei, among others, are involved. The association now incorporates the Madrid-based IMDEA Networks Institute, a research organization led by Arturo Azcorra, former Director General at the Spanish Centre for the Development of Industrial Technology (CDTI) from 2010-2012.
A catalyst for ICT. The future 5G network will enable important advances for the telecommunications sector, such as 1000 times higher wireless area capacity, with an impact on 7 billion people and 7 trillion objects due to the rise of the Internet of Things. Moreover, the new technological developments will make possible 90% energy savings per service provided. The European Commission estimates that today's ICT market contributes to 6% of Europe's GDP and employs more than 7 million people.
Horizon 2020. Over the next seven years, this association will receive 1.4 billion euro from the total of 80 billion euro with which this research framework program operates. The participation of IMDEA Networks and University Carlos III of Madrid reinforces the international role of this Spanish research Institute. Since 2006, the organization performs cutting-edge networking science aimed at achieving excellence in ICT Infrastructure and network research.
Source(s):
El Mundo/Innovadores/R. F. Madrid