All roads lead to 5G
13 July 2017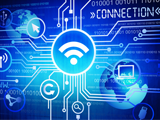 In the ever-changing context of communication networks, all roads converge towards the promise of 5G: higher data bandwidth, greater speed and lower latency. International scientists are competing to be the first to develop technical solutions that seek to unite and balance the set of existing technologies with those yet to come, and thus bring us closer to the ideal of seamless communications. The potential economic impact associated with the digitization of European industry is so considerable that we are already talking about a Fourth Industrial Revolution or Industry 4.0.
---
One of the makers of the upcoming revolution in our communications and lifestyle, the laureate professor and scientist Dr. Ian Akyildiz of the Georgia Institute of Technology – Georgia Tech (USA), will visit Madrid next week. Dr. Akildyz is a global authority in the field of wireless telecommunications and the author of numerous ground-breaking scientific contributions about cellular and underwater networks and, currently, a pioneer in 5G and nanoscale networks (also known as "nanonetworks").
This is a unique opportunity to come into contact with the most advanced thinking on the future of mobile communications. At a conference to be held on July 19 in Madrid, Dr. Akyildiz will present the main research challenges of the coming years in the field of wireless networks, focusing both on the different aspects of the future 5G radio interface and on the fundamentals of its radio access network (RAN). In turn he will present key technological challenges for the development of the Internet of Things (IoT), a concept that involves the digital interconnection of everyday objects to the Internet. The future of communications therefore combines the very small to the great ambition of connecting to everything, everywhere.
In particular, Dr. Akyildiz will introduce «SoftAir», a new wireless software-defined architecture with network function virtualization (NFV) solutions for 5G wireless systems. This architecture provides cellular networks with the needed flexibility to evolve and adapt according to the ever-changing network context, an essential requirement for the networks of the future.
5TONIC, an open research and innovation laboratory focused on 5G technologies and based at the Madrid research institute IMDEA Networks, is responsible for the organization of this event. Telefónica and Ericsson are the co-founders of 5TONIC.
More information and registration here.
Personal website of Prof. Ian Akyildiz.
Source(s):
5TONIC; IMDEA Networks Institute