SustainIT 2015: the sustainability of ICT, via ICT
22 April 2015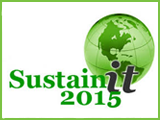 The 4th IFIP Conference on Sustainable Internet and ICT for Sustainability successfully concluded in Madrid last week.
SustainIT has brought together 44 international experts working in the fields of energy, computing and communications, amongst other disciplines, to discuss recent research and identify future directions and major R&D challenges in a concerted effort to enhance the sustainability of ICT, via ICT. The conference addressed both theoretical and practical aspects of the sustainability of ICT (including smart energy management) and the innovative use of ICT to enhance human and societal sustainability.
The following awards were bestowed by selected members of the conference committee among the scientific papers presented at the conference:
Best Paper Award: "Smart Grid-aware Scheduling in Data Centres". Authors: Markus Mäsker, Lars Nagel and André Brinkmann (Zentrum für Datenverarbeitung, Johannes Gutenberg-Universität Mainz, Germany); Foad Lotfifar and Matthew Johnson (School of Engineering and Computing Sciences at Durham University, UK).

Best PhD Forum Award: "Exploring the Dimensions of Eco-feedback in the Wild" (poster). Authors: Filipe Quintal, Nuno Nunes and Valentina Nisi (Madeira Interactive Technologies Institute, University of Madeira, Funchal, Portugal).
IMDEA Networks Institute has co-organized the 4th edition of this event, building on its commitment to advance the field of energy-efficient networking. The Institute is actively involved in research conducted to increase energy performance with the use of computation and communication. IMDEA Networks scientists aim to create more energy-efficient computing and communication systems as well as designing ICT systems that improve energy production and distribution in other areas.
SustainIT was held at University Carlos III of Madrid's Getafe Campus, in Madrid, from April 14th to the 15th, 2015. It was co-organized by IMDEA Networks Institute and UC3M. Dr. Domenico Giustiniano, a Research Assistant Professor at IMDEA Networks and research leader of the Institute's Pervasive Wireless Systems Group was the General Co-Chair.
Event website: http://sustainit2015.networks.imdea.org/
Source(s):
IMDEA Networks Institute