Sergio Yébenes, new PhD Student
30 September 2013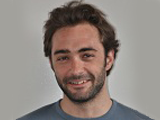 Sergio Yébenes has become a member of our research team. He will be working as a PhD Student under the supervision of Arturo Azcorra, Director of the Institute, from September 2013.
Prior to his incorporation to IMDEA Networks, Sergio has developed his professional activities mostly in the private sector. He has been employed as a Web Developer specialized in eCommerce by several small companies: Gafasnet, a company selling prescription glasses and lenses; Piezas y Partes S.L., dealing internationally in laptop/tablet/smartphone parts as well as Google Adwords optimization; and, right up to his incorporation to IMDEA Networks, Tower NetCommerce (MOBIUS LTD., Dublin, Ireland), specialized in setting up customer websites across the UK and Ireland.
Sergio's professional background also includes being employed as a Spanish eID specialist for the company MarketiNet and as a Programmer in a collaborative research project between UPM and Universidad Rey Juan Carlos (Madrid). The latter project focused on the design of overlay networks based on P2P positioning.
Sergio Yébenes received a B.Sc degree in Computer Science and a M.Sc. degree in Information Technologies, both from the Universidad Politécnica de Madrid (UPM), Spain. He is currently studying a Master's Degree in Telematics Engineering at Universidad Carlos III de Madrid, whilst launching his research career at Institute IMDEA Networks. At present, his main research interests are Internet Architecture, Next-Generation Networks, Internet Security and Communications Networks.
---
PhD Students at IMDEA Networks
Do you also wish to join our team of young researchers? More information in our Careers opportunities pages.
Source(s):
 Institute IMDEA Networks