Roberto Calvo Palomino, new PhD Student
17 September 2014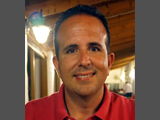 Roberto Calvo Palomino has become a member of our research team. He will be working as a PhD Student from September 2014, under the supervision of Domenico Giustiniano, a Research Assistant Professor at IMDEA Networks. His main areas of interest lie in Collaborative Spectrum Sensing, Machine Learning, Tracking Algorithms, RGB-D Sensors and Augmented Reality.
Roberto received his MSc degree in Telematics Systems and Computer Science from University Rey Juan Carlos (Madrid) in 2010. From 2008 he worked within the LibreSoft research group at the said university. During that period he focused his activity to research and development on augmented reality, Android and machine learning associated to several FP7 European projects. On his final year he worked for the Robotic Lab, developing a 3D tracker system with RGB-D sensors.
---
PhD Students at IMDEA Networks
Do you also wish to join our team of young researchers? More information in our Careers opportunities pages.
Source(s):
Institute IMDEA Networks