Pablo Caballero, new PhD Student
28 January 2014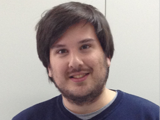 Pablo Caballero Garcés has become a member of our research team. From January 2014, he will be working as a PhD Student under the supervision of Albert Banchs, Deputy Director at the Institute.
Prior to his incorporation to IMDEA Networks and from July 2013, Pablo was enrolled for a 6 month internship at NEC Laboratories Europe in Heidelberg (Germany). During his internship Pablo worked on wireless communications, developing the optimization of shared LTE-A networks. Previously, he performed research in collaboration with IMDEA Networks and University Carlos III of Madrid (UC3M), which formed the basis for his Bachelor Thesis entitled "Forecasting popularity in Youtube Videos".
Pablo obtained his B.Sc. degree in Audiovisual Systems Engineering from UC3M and he is about to embark on a Masters Degree in Telematics Engineering imparted at this university.
His main research interests are Wireless Communications, Algorithms and Network optimization.
---
PhD Students at IMDEA Networks
Do you also wish to join our team of young researchers? More information in our Careers opportunities pages.
Source(s):
IMDEA Networks Institute