"Our students carry out virtual cataract operations"
06 May 2009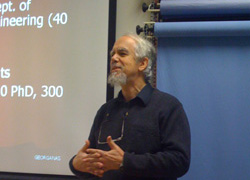 The expert in virtual reality ended his tour of research centres at Ikerlan
He filled the conference room of the Faculty of Information Technology and toured the technological centres of Gipuzkoa such as CEIT, Vicontech and Ikerlan with great satisfaction. "Some very important work is being done in the Basque Country", he said. The engineer Nicolas D. Georganas, lecturer and researcher of the University of Ottawa, asserts that advances in virtual reality will bring together many specialities.
---
What is the most surprising application of virtual reality?
For 20 years we have been using virtual reality in games.But more recently we have started to use it for industrial applications.In learning, for instance.With simulations accidents in the workplace can be avoided.It also allows students to practice, particularly those in medicine and nursing.
Students in medicine and nursing at the University of Ottawa learn to operate on cataracts in virtual reality. A big step forward?
The technology allows us to avoid practicing on animals or even patients, which is sometimes the case.Haptic devices allow the student to feel, for instance, the force that the lecturer in medicine applies in the operation, even at a distance of many miles.
It seems like magic.
Haptic systems are not well known and have not been developed on a massive scale, but they are present in everyday life.For instance, the vibrator in mobile phones.
Virtual reality does not provide us with tactile sensations of hardness or rugosity. Will it arrive?
Transmission is the revolution.Haptic systems existed ten years ago.In a tele-operation or in telerobotics, the systems come from mechanical engineering and electronics.I have seen some very interesting work at the University of the Basque Country and in the CEIT, Ikerlan and Vicontech centres I visited in Gipuzkoa.
One of your projects has been to computerise prediction of incidents in crowds.
It is a security project.The sensors capture gestures and ways of walking.People with experience in these matters can then make a decision.That's something technology can't do.
How must information technology faculties adapt to the Challenge of Bologna?
European university convergence is a great thing.It will allow exchanges of students and lecturers.It will raise awareness of the programmes of the various institutions and countries.
With the advances in virtual reality, will we end up tilting at windmills?
There are significant problems that require the participation of university colleagues in the fields of psychology and sociology.These experts often work with computer scientists and engineers to assess the effects of the technology on human beings.We don't know its effects.
CAREER
He is a visiting researcher at IMDEA Networks, a cátedra de excelencia at the Carlos III University of Madrid, and has received honorary doctorates from Greek and German universities. He has been the associate vice-president of research at the University of Ottawa and received the Killam Prize for Engineering, the top Canadian award for research.
Read more:
Source(s):
diariovasco.com